CRI Report Can Help Tell the CU Story (Misc News: March 12, 2013)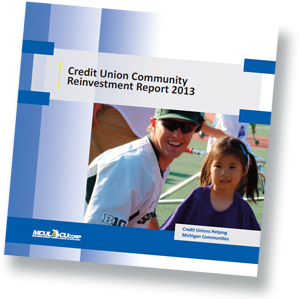 The 2013 Community Reinvestment Report is now available.
The CRI report is designed to showcase some of the great things Michigan credit unions do for the communities. MCUL & Affiliates gives a copy of the report to every lawmaker in Washington and Lansing to help them understand the Michigan credit union movement's impact.
It includes information about the value of credit union membership, as well as about credit unions' better interest rates and special programs such as Save to Win and Invest in America. It also shows how credit unions are helping Michigan businesses grow and how credit unions themselves are growing their own employment.
Click here to download the report. If you would like glossy printed copies of the report, contact Bryan Laviolette at (800) 262-6285 or Bryan.Laviolette@mcul.org.