Save to Win 'Week of Winning' Wraps Up (Misc News: February 22, 2013)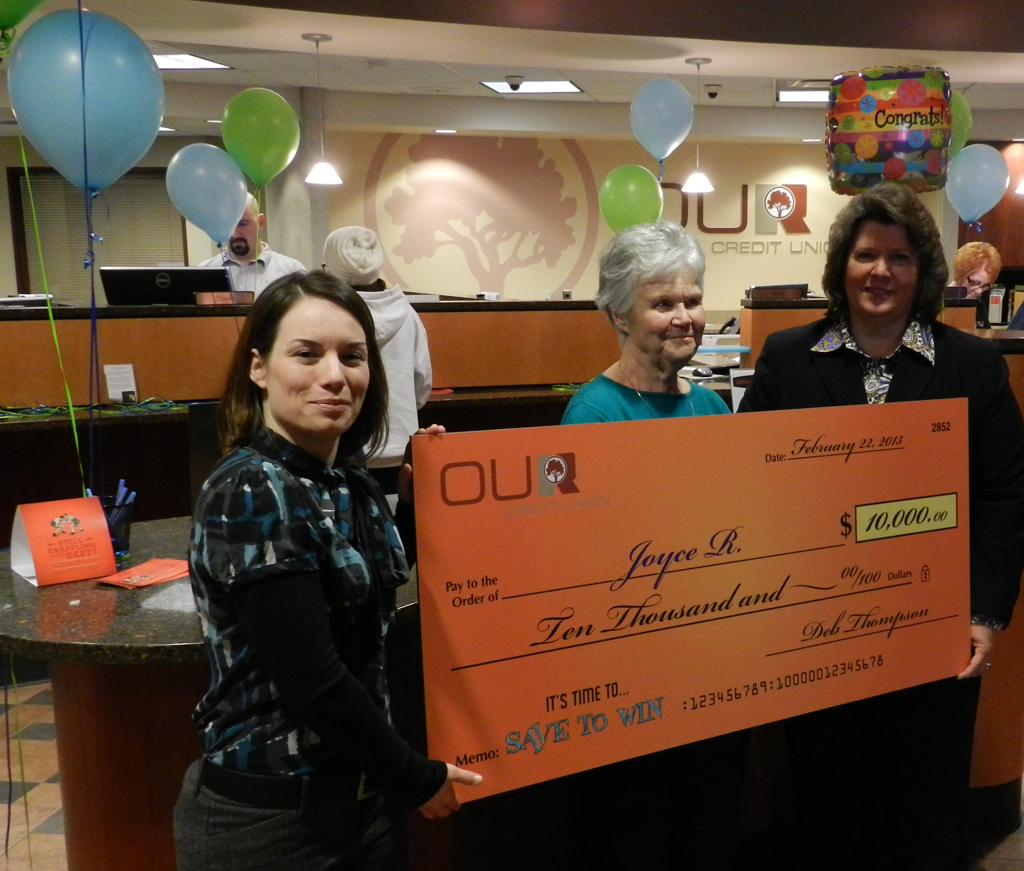 OUR CU member Joyce Rust, center, receives her check from Jessica Demorest, left, of MCUL & Affiliates and OUR CEO Deb Thompson.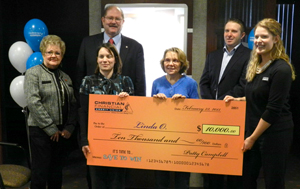 Christian Financial CU member Linda O., center, accepts a $10,000 check for winning Save to Win. With her are Roseville City Councilwoman Jane Haggerty, Save to Win Coordinator Jessic aDemorest, Mayor John Chirkun, Keith Nelson with Rep. Sander Levin's office and Rebekah Johnson of Christian Financial.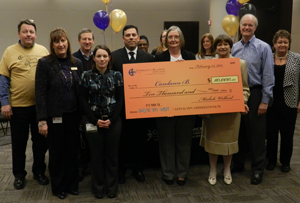 Community Alliance CU celebrates one of its members, Carolann Broekhuizen, winning one of 10 Save to Win Grand Prize awards.

The final day of the statewide Save to Win "Week of Winning" ended in grand style, with three grand prize winners in Metro Detroit receiving $10,000 checks.

After logging 1,500 miles across the state and traveling from Marquette to Grand Rapids to Fenton (and several places in between), the Save to Win Prize Squad made its way around the Motor City's suburbs, with stops in Royal Oak, Roseville, and Dearborn.

At OUR CU in Royal Oak, Joyce Rust was the first big winner of the day. Rust has participated in the prize-linked savings program since 2010.
"The only thing better than saving money is winning money for saving money," Rust said. "I'm glad that even in these economic times, I can set a little something aside for the future. I'm glad my credit union is doing the things that help ordinary people like me save money. And I'm looking forward to using some of my winnings to put in a new front lawn."
"We've been serving families in Royal Oak for more than 50 years, and one of the things we really enjoy is finding ways to give money back to our members," said Jeff Glaser, OUR CU director of marketing. "We are thrilled that one of the Grand Prize winners is from our community. Congratulations to Joyce and all our Save to Win account holders."
From there, the prize mobile rolled on to Roseville to award a $10,000 check to longtime Christian Financial CU member Linda O.
"Our number one goal has always been helping our members become financially empowered, and we're proud one of our members is showing how saving money really pays off," CEO Patty Campbell said. "We want to congratulate Linda and her family, and we're proud that we can help make a positive difference for the communities we serve."
The 10th and final stop on the Week of Winning tour was Dearborn, where Carolann Broekhuizen received her $10,000 check. Broekhuizen has been a member of Community Alliance CU in Dearborn since 1979.
"To be honest, this is a complete surprise to me, because my goal was simply to save a little money," said Broekhuizen, who retired from AAA Life in 2012. "You never know when you're going to need a little cash down the road, so that's why it's always a priority to set aside a little something as regularly as I can. I think it's a really good idea to reward people who save money, because that will really encourage people to save their money."
"Our members who set aside their money through Save to Win are already winners, because they are saving for their futures and making good financial decisions," CEO Michele Wollard said.
If you missed any of the coverage of the Save to Win Week of Winning, catch up on all the happenings by logging on to the Save To Win Facebook page by clicking here.