Three Save to Win Grand Prize Winners Get Their Checks (Misc News: February 21, 2013)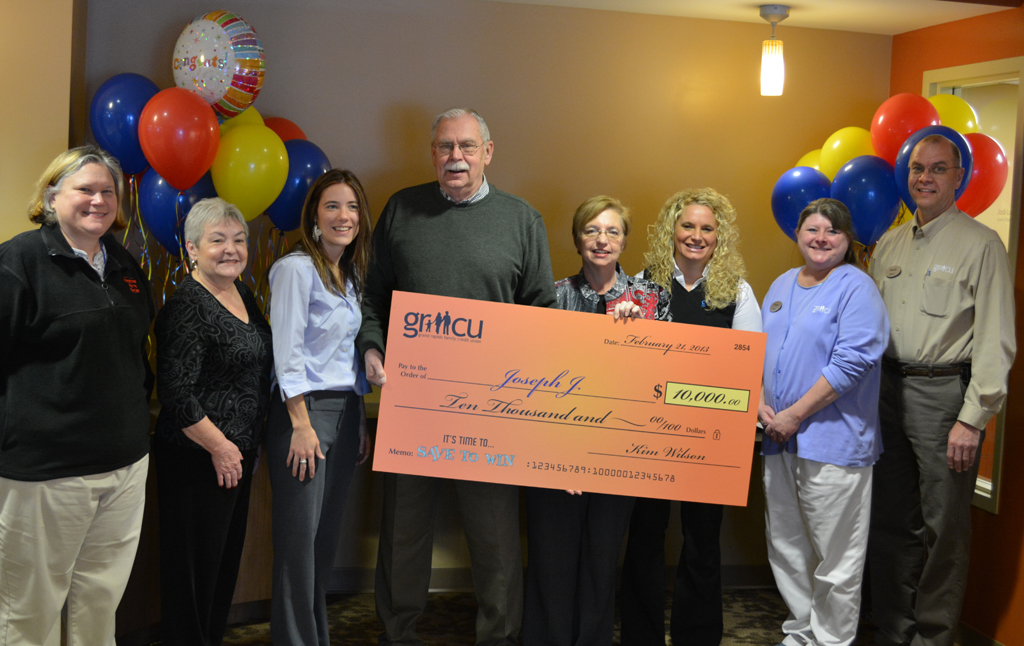 Joseph J., a member of Grand Rapids Family CU, won $10,000 in the Save to Win contest.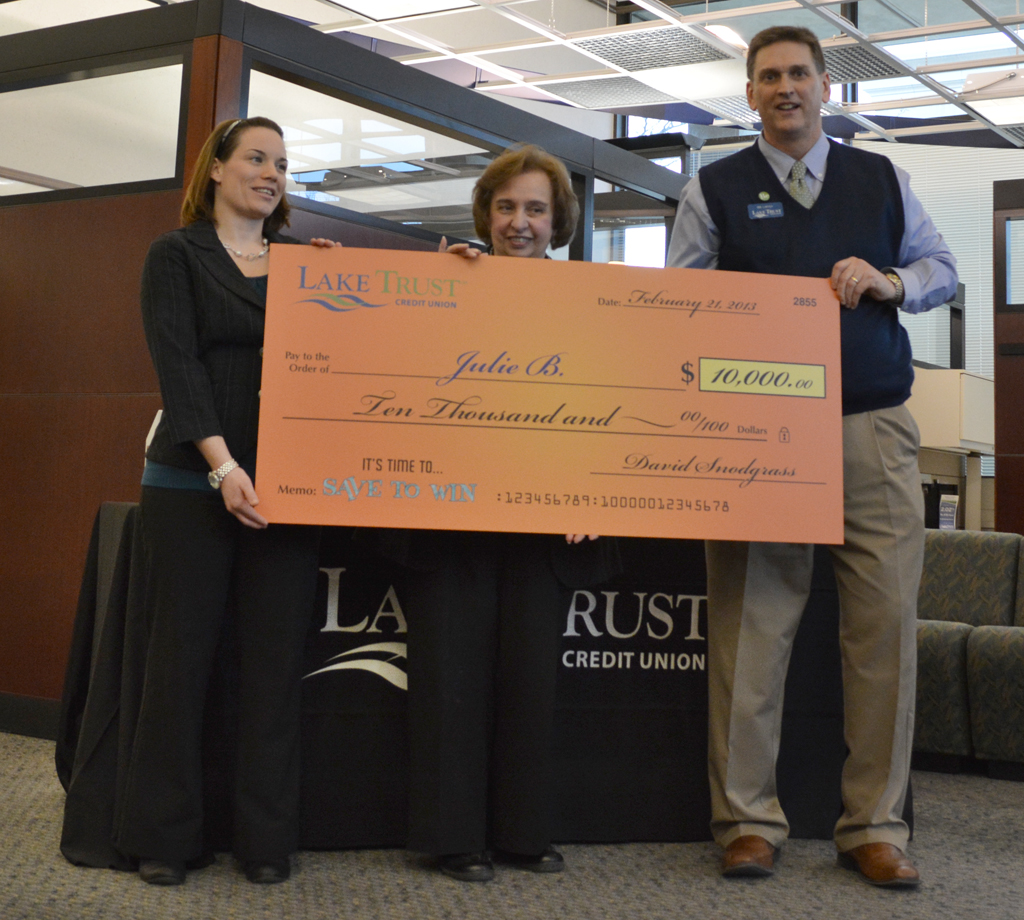 Julie B., a member of Lake Trust CU, accepts her $10,000 check from Save to Win.
The Save to Win Prize Squad made a sweep through lower Michigan Thursday, on Day 4 of the Week of Winning celebration.
After making stops in Marquette, Ishpeming, Escanaba, and Alpena to deliver $10,000 checks to Save to Win grand prize winners, the Prize Squad criss-crossed the lower part of the state to honor winners in Grand Rapids, Lansing, and Fenton.
Joseph Janulis was the first big winner of the day. Janulis, a retired Grand Rapids Police captain, has been a member of Grand Rapids Family CU since 1958 and has participated in Save to Win since 2011.
"I've always known that putting money away is the right thing to do, but getting this unexpected prize gives a really nice boost to that theory," Janulis said. "Our family has always believed in the value of saving money, and our credit union does a great job of making it fun. We plan to keep investing our winnings back into our savings to help the money grow even more."
"Joseph Janulis is not just a long-standing member of our credit union, he's also served our entire community in uniform for many years, and Grand Rapids Family Credit Union is extremely proud we can present this Grand Prize to him," CEO Kim Wilson said. "We strongly believe in helping our members reach their financial goals, and that includes helping them save money and grow their wealth. Programs like Save to Win make it fun for the whole family to save early and save often."
Next, the statewide tour rolled into the state's capital, where Lake Trust CU member Julie Benvenuto was the lucky Grand Prize winner. Benvenuto currently works part-time at H&R Block preparing taxes.
"Lake Trust Credit Union is committed to helping our members save their money and meet their financial goals, and one of the ways we're doing that is through innovative programs like Save to Win," said Danielle Brehmer, vice president of marketing for Lake Trust.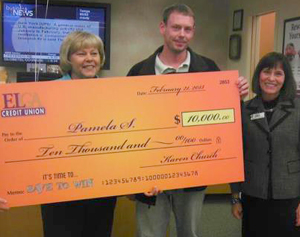 Pamela Spohn, left, accepts her check for winning the Save to Win Grand Prize.
The final stop of the day was the Fenton branch of Burton-based ELGA CU, where member Pamela Spohn received her $10,000 grand prize. Spohn been an ELGA member since 2008 and said she plans to use some of her winnings for rest and relaxation. At ELGA, participation in the Save to Win program has more than doubled from 2011, growing at one of the fastest rates in the state.
Spohn was awarded a check for $10,000 in a special visit from the Save to Win Prize Squad. A total of ten $10,000 Grand Prize winners throughout Michigan will be awarded during the "Week of Winning" Feb. 18-22. The Prize Squad has been traveling across Michigan this week to present the checks to the winners who all have Save to Win savings accounts and were selected from a random drawing in January.
"ELGA Credit Union is really proud to work hard for our members and give them the support they need to become financially successful," ELGA CEO Karen Church said. "More than 1,600 of our members are saving money through Save to Win and the growth of our members' savings reflects their strong commitment to the value of saving money for their futures. They're making solid financial decisions, and they're having fun through this savings program."
The Save to Win "Week of Winning" continues on Friday with 3 final grand prize celebrations. Be sure to "like" Save to Win on Facebook and follow @SaveToWin on Twitter for the latest updates.