Save to Win 'Week of Winning' Continues in Escanaba and Alpena (Misc News: February 20, 2013)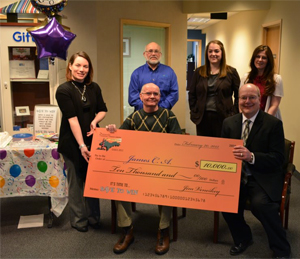 James C. Anderson, seated on left, a member of Peninsula FCU in Escanaba, gets his $10,000 check from the Save to Win Prize Patrol.
Another day, another big win for two credit union members. Wednesday the Save to Win Prize Squad continued its statewide tour, stopping this time in Escanaba and Alpena to help present $10,000 checks for two more Save to Win grand prize winners.
The first stop of the day was Escanaba, where the Prize Squad surprised James C. Anderson with a big check. Anderson, who has been a member of Peninsula FCU for more than 50 years, said he and his wife Judith plan to help their grandson pay for college with their winnings. Anderson lives in Escanaba and retired from Newpage 16 years ago.
"Peninsula FCU is extremely pleased to encourage our members to save their money and grow their personal wealth through programs like Save to Win," PFCU CEO James Veneskey said. "Our credit union is excited that one of the statewide grand prize winners this year is a longstanding PFCU member.
"Congratulations to Jim Anderson and his family, and we look forward to serving him and our 10,000-plus other members so they can meet their financial goals."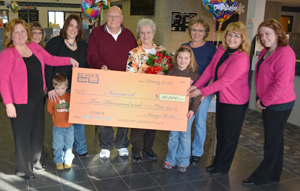 Besser CU member Norma Smith accepts a check for winning the Save to Win Grand Prize.
From there, the Prize Squad rolled on to Besser CU in Alpena, with a $10,000 check for Norma Smith. Smith and her husband Ron have been members of the credit union for 34 years.
"My husband and I love saving money – and we really love winning a prize for doing what we're already doing anyway," Smith said.
"For decades, Besser Credit Union has worked hard to help our members meet their financial goals and we're proud that Save to Win is helping families in our community save their hard-earned money," said Tammie Lewis, Besser account specialist. "Besser is thrilled that one of our members is a Grand Prize winner in a statewide contest that encourages and rewards good financial habits. Congratulations to Norma Smith for winning this prize and being a great example at the same time."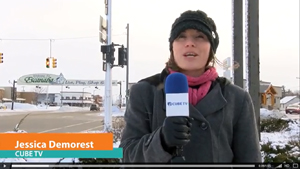 2012 was the first year that Besser CU offered the Save to Win program.
Thursday the "Week of Winning" continues with three celebrations and three more $10,000 checks at three more credit unions.
To track the Save to Win Prize Squad during their week of travel and follow where they've been and where they're going next, follow @SaveToWin on Twitter and use the hashtag #savetowin. Updates will also be posted at www.Facebook.com/SaveToWin. Anyone who spots the Prize Squad, takes a photo, and uploads it to Facebook or Twitter could win a prize.