Save to Win Prize Squad Delivers Grand Prizes to Two U.P. Winners (Misc News: February 19, 2013)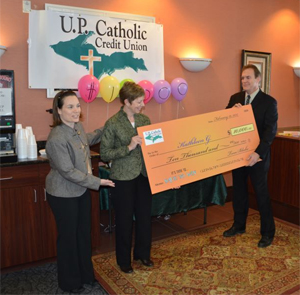 Kathy Grisham, center, accepts her $10,000 check for winning one of ten Save to Win grand prizes.
The Save to Win "Week of Winning" is off to a big start, with grand prize celebrations at two Upper Peninsula credit unions.
The Prize Squad delivered the first $10,000 grand prize check to Kathy Grisham, a lifelong member of U.P. Catholic CU in Marquette. Grisham has had a savings account at the credit union since birth, so taking part in Save to Win was a natural fit.
"Saving money has been a family tradition since the day I was born, and I'm really glad that my credit union is making it fun for the entire family to get into the habit," said Grisham, 52, who is a senior executive assistant at Marquette General Hospital. "Being able to save money is something we are grateful we can do – and now we're doubly grateful for this unexpected prize. This means we can work on some home projects a little sooner than we planned."
Later in the day the Prize Squad made its second stop, this time at Ishpeming Community FCU to deliver another $10,000 check to Scott Magnuson. A CCI mining maintenance worker for the Empire mine, Magnuson has been a member of ICFCU since 1991.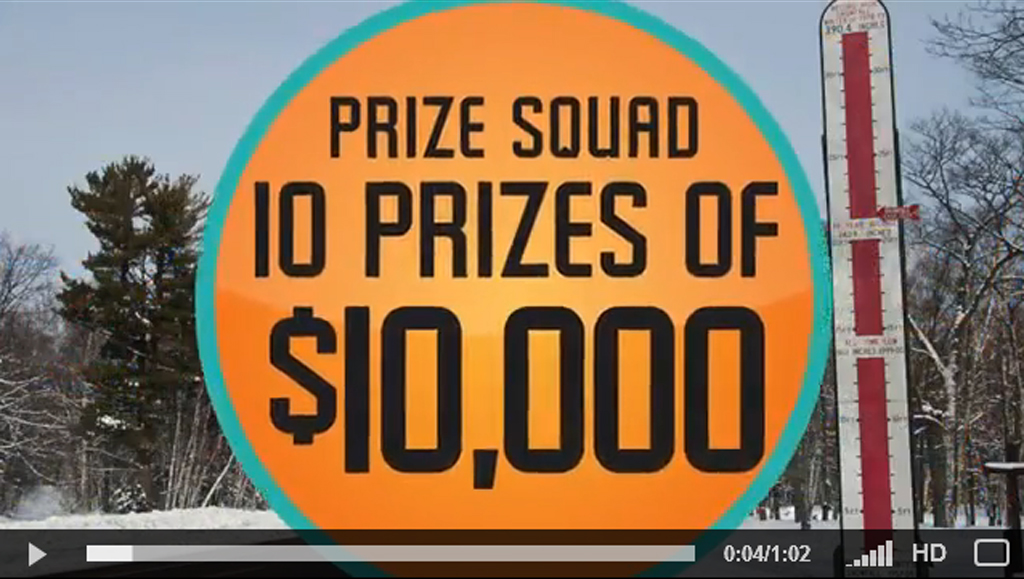 "Save to Win rewards members who embrace good financial habits," said George Isola, general manager at Ishpeming Community FCU. "Save to Win is a way to encourage families we serve across the Upper Peninsula to save some of their hard-earned money – and we're really excited that one of our members is getting rewarded for saving money. Save to Win continues to grow in popularity with our members, and this program is helping the members we serve grow their wealth."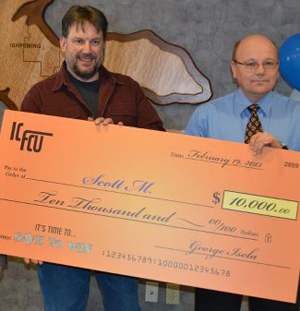 Scott Magnuson, a member of Ishpeming Community FCU, accepts his check for winning the Grand Prize in Save to Win from CEO George Isola.
Grisham and Magnuson were selected as grand prize winners in a random drawing conducted last month for Save to Win participants. Save to Win is the highly acclaimed prize-linked savings program administered by MCUL. Each $25 deposit into a Save to Win certificate of deposit by a credit union member entitles them to one entry into the Grand Prize drawing. In addition, most credit unions also individually award prizes to members who sign up for Save to Win, with prizes varying from credit union to credit union. All Save to Win deposits generate interest and build savings.
Click here to see a video from Tuesday's Save to Win "Week of Winning" events, and be sure to follow the weeklong adventure online. Follow @SaveToWin on Twitter and "like" the page on Facebook for updates.