MCUL Co-Hosts Foreclosure Roundtable at MSUFCU (Misc News: February 12, 2013)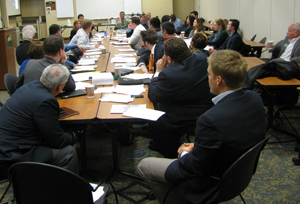 Capital Chapter credit unions and representatives of state lawmakers took part in a roundtable discussion on foreclosures with Sen. Darwin Booher, R-Evart, at MSUFCU's East Lansing headquarters.
EAST LANSING – As Michigan's housing market continues to show signs of turning the corner, MCUL & Affiliates co-hosted a Foreclosure Roundtable at Michigan State University FCU's headquarters in East Lansing on Feb. 11.
Senate Banking & Financial Institutions Committee Committee Chairman Darwin Booher, R-Evart, joined about a dozen House and Senate legislative staff representing members on the financial services committee at the event. The roundtable was a joint effort between MCUL & Affiliates, MSUFCU and the Capitol Chapter as part of an ongoing effort to educate lawmakers and legislative staff on Michigan's 90-day foreclosure communication law in relation to the new CFPB mortgage servicing rules.
Michigan's current law is scheduled to expire on June 30. Credit unions will need to be in compliance with the new CFPB rule by Jan. 10, 2014.
Credit union leaders from MSUFCU, Lansing Postal Community CU, Lake Trust CU, ELGA CU, LAFCU, Astera CU,and Eaton County Educational CU participated in the two-hour event. MSUFCU President and CEO Patrick McPharlin and members of his staff opened the session by welcoming attendees to their East Lansing headquarters.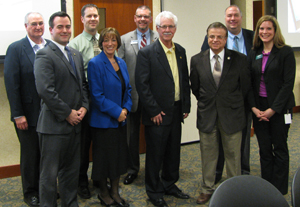 Sen. Darwin Booher, center, stands with credit union leaders after the meeting.
Kieran Marion, MCUL & Affiliates vice president for governmental affairs, and Legislative and Regulatory Specialist Shawn Wolbert provided regulatory summaries on Michigan's 90-day communication law and the new CFPB servicing requirements. Chairman Booher and legislative staff had the opportunity to ask questions regarding the new requirements and engage in discussion about credit unions' practices and perspective with regard to foreclosure.
With new members serving on the House Financial Services Committee outnumbering those returning to the panel, the event was geared at helping legislative staff understand the credit union difference, and what costs and regulatory restrictions are placed on credit unions during a mortgage foreclosure. The event was organized prior to committee hearings in the House and Senate that are targeted for early spring, where lawmakers will review the state's 90-day law and its sunset date along with the impact of the new CFPB rules on servicing. As credit unions continue to be leaders in the mortgage lending arena, MCUL has identified this topic as one of its legislative priorities at the state level.