First Quarter 2013 Contact is Here (Misc News: January 24, 2013)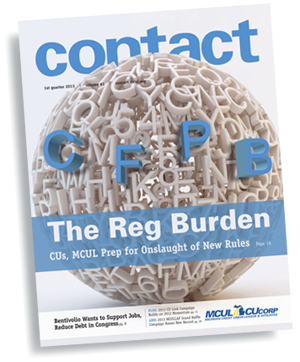 The first quarter issue of Contact should be in mailboxes this week.
This issue focuses on the CFPB and rules that the bureau has and will be imposing along with updates on the CU Link cooperative advertising campaign and the MCULLAF Grand Raffle. Click here to read the online version of the newsletter.
If you're interested in subscribing, contact Bryan Laviolette at Bryan.Laviolette@mcul.org.