Frankenmuth CU Member Wins CU Link Contest, Chooses Child Advocacy Council to Share Winnings (Misc News: December 20, 2012)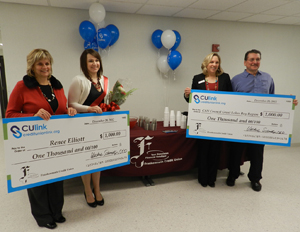 From left are Vicki Schmitzer, CEO of Frankenmuth CU; sweepstakes winner Renee Elliott; Drewe Robinson, board chairwoman of the CAN Council Great Lakes Bay Region, and Rick Reif, Frankenmuth CU board member.
Birch Run resident Renee Elliott answered a simple online question and won a prize for herself – and one for a local charity she supports.

Elliott, 27, won $2,000 in the Credit Union Link "Share the Wealth" contest. She won $1,000 for herself and $1,000 to donate to a charity of her choice. She chose the Child Abuse and Neglect Council Great Lakes Bay Region for her donation.
"I am truly humbled and thankful for receiving this blessing and being able to share it with an organization that works so hard to help families in our community," Elliott said. "This was such a wonderful surprise for our family from our credit union, and the timing couldn't be better. We are in the midst of purchasing a new home, so this will help our family build some wonderful memories."
Elliott's name was drawn at random from entries in the "Share the Wealth" sweepstakes that ran from Nov. 1 through Nov. 30 on MCUL & Affiliates' Credit Union Link Facebook page. The sweepstakes was the last of three online promotions this year aimed at raising awareness of Michigan credit unions.
"Michigan credit unions are always looking for innovative and fun ways to give back to our members and the community," MCUL & Affiliates CEO David Adams said. "Whether it's to our own members or to the community at large, giving back is an integral part of the credit union philosophy."
Elliott, the mother of three young children, has been a member of Frankenmuth CU her entire life.
"Few things make me feel better than giving back to our members, but being able to pay it forward by supporting a terrific organization like the Child Abuse and Neglect Council at the same time takes it to a new level," Frankenmuth CU CEO Vickie Schmitzer said.
Elliott said she chose the Child Abuse and Neglect Council because of the important work the organization does for families and children in Bay and Saginaw counties to eliminate abuse and neglect.
Known as the CAN Council, board chairwoman Drewe Robinson said the organization has three main components:
Child advocacy center – where authorities can bring children to "help them not be interviewed in the back of a squad car."
Education – the center provides family education classes at area schools
CASA – Court-Appointed Special Advocates. These volunteers follow cases all the way through any legal proceedings and advocate solely for the children.
"The spirit of giving is the essence of what it means to be a part of a community," said CAN Council board chair Drewe Robinson. "This generous donation will directly help children and families in our region, and our organization is very grateful for the support of the Elliott family, Frankenmuth Credit Union, and the Michigan credit union community."