2012 MCULLAF Grand Raffle Campaign Raises New Record (Misc News: November 19, 2012)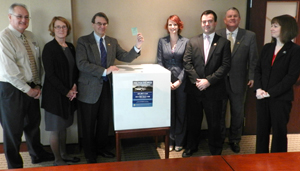 Jim Kirk shows the winning ticket while Don Yuvan of Eaton County Educational CU, left, Karen Wietzke of Option 1 CU, Melissa Osborn, Kieran Marion, Drew Egan and Kathryn Hall, all of MCUL & Affiliates, watch.
The drawing for the MCULLAF (federal PAC) Grand Raffle was held at the MCUL & Affiliates Lansing headquarters on Monday, Nov. 19, and the 2012 Grand Raffle winner is ticket number 44273.
The ticket was sold from Lake Michigan CU in Grand Rapids to a Kentwood woman. The 2012 Grand Raffle raised the highest amount in the history of the program, bringing in $200,460 for the MCULLAF (federal) PAC. This is an increase of $31,470 over the previous year. In 2012, all 45,000 tickets were distributed, a record 144 credit unions participated and the total dollars raised surpassed $200,000 for the first time.
Thank you to all of our member credit unions which participated in this program this year. The raffle has been held every year but one since its inception in 1991.