MBL Proponents Speak Out in Washington (Misc News: September 12, 2012)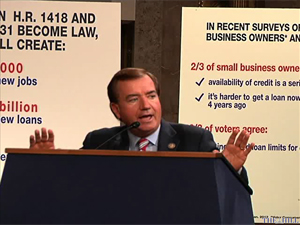 Rep. Ed Royce, R-Calif., tells credit union supporters that passing legislation to raise the cap on member-business lending is critical for moving the economy forward.
WASHINGTON – Credit union supporters urged Congress to pass a bill that would raise the cap on member business lending so that the movement can help more small businesses.
TheHill.com, a Washington political news outlet, hosted an event to showcase the need for increasing the member business lending cap. CUNA representatives, supporters from Congress and outside backers of raising the cap, spoke at the event.
Several panelists said that they don't see a reason to have any sort of cap on member business lending.
Sen. Mark Udall, D-Colo., the primary sponsor of S.2231, the Small Business Lending Enhancement Act, which would raise the MBL cap from 12.25% of assets to 27.5%, said raising the cap would help the economy and would even improve national security.
"It's a no-cost, surefire way to grow our economy," Udall said.
Udall added that credit unions should be allowed to help their members.
"When you have a membership organization, why aren't you allowed to do all you can to help your members?" Udall asked.
His counterpart in the House, Rep. Ed Royce, R-Calif., said the beauty of efforts to raise the cap is that it won't require a government loan or guarantee.
"Here we have something that we know works," Royce said, "and all we have to do is allow institutions that do this for a living to do more of it."
CUNA President and CEO Bill Cheney said that banks have made the case that credit unions were originally created to help people of modest means, not small business owners. But he said that the country's oldest credit union, St. Mary's Bank, has been making business loans since 1908 and is unable to make more loans because it is up against the current cap.
In fact, Eli Lehrer of the R Street Institute, a Washington think tank added that Edward Filene, who fostered the early credit union movement in the U.S., spoke of making loans to what he called "independent enterprises."
Lehrer said that small business loans are typically made by newly chartered banks looking to get started in the marketplace. But with no new banks chartered in the U.S. in the last two years, that source of capital has dried up.
John Arensmeyer, president and CEO of the Small Business Majority, a network of 8,000 businesses, said polls have shown that small businesses are having trouble finding access to capital.
"It's harder to get a loan than it was four years ago," Arensmeyer said.
Arensmeyer said most in the business community are agnostic when it comes to where they get capital. He said businesses don't want to be part of the dispute between different factions of the financial services industry; they just want access to the credit they need to run their businesses.
Lehrer said the proposal before Congress has numerous safeguards that will limit the risk in changing the policy on credit union business lending. But he added that there should be no cap on business lending, drawing applause from the audience.
"I don't think this goes far enough, honestly," Lehrer said.
Brad Green, president/CEO of Listerhill CU in Florence, Ala., said his credit union has been involved in business loans for only eight years.
"It sort of started because we had people coming to us asking for business loans," Green said.
Now, the credit union is having to turn away business because it is bumping up against the cap. He added that other credit unions in his area have decided against opening business-lending departments because of the cap.