Champion Woman is Grand Prize Winner of Credit Union $10,000 Sweepstakes (Misc News: September 6, 2012)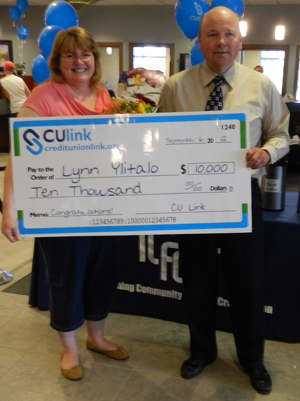 Lynn Ylitalo, grand prize winner of the $10,000 "Own Your Money" sweepstakes and George Isola, General Manager of Ishpeming Community Federal Credit Union
For Lynn Ylitalo, a simple click on her credit union's website turned into $10,000.

Ylitalo is the grand prize winner of the "Own Your Money" sweepstakes and received the $10,000 check on Thursday at Ishpeming Community FCU's main branch in Ishpeming.

"I was just doing my usual business on my credit union's website, when I saw the link to enter the sweepstakes, but I never actually thought I'd win," said Ylitalo, 49, of Champion. "With one child already in college, one about to begin college, and another not far behind, this prize is truly life-changing. It means the world to be able to contribute to my children's education, and I owe it all to my credit union."

"Michigan credit unions are always looking for innovative and fun ways to give back to our members, and this sweepstakes is yet another example of our commitment to the families we serve," David Adams, MCUL & Affiliates CEO said. "Because they are part of not-for-profit cooperatives, credit union members truly do own their money, and they reap the rewards with better rates on savings and loans, fewer fees, and in cases like this, grand prizes."

"We were thrilled to find out one of our members was the big winner," George Isola, General Manager of Ishpeming Community FCU said. "I could do this every day – give out checks for $10,000," Isola said."

The sweepstakes was part of the annual statewide campaign aimed at raising awareness of Michigan credit unions which also included the launch of CU Link, the online portal for Michigan credit union information which can be found at www.creditunionlink.org.

Ylitalo's name was drawn at random from over 32,000 entries in the online sweepstakes that ran from May 14-June 27. Credit union members and non-members alike were invited to watch a video about credit unions to be entered into the drawing for a $10,000 grand prize. Many credit unions, including Ishpeming Community FCU, also had direct links to the sweepstakes on their websites. In addition to the $10,000 grand prize, more than a thousand instant prizes worth a total of $20,000 were awarded.

Michigan credit unions recently awarded $700 to another member who was the winner of the first of three promotions on the CU Link Facebook page. The current sweepstakes, "What would you do with $1,240?" runs through Sept. 23, 2012, when one lucky credit union member will win $1,240. This sweepstakes highlights another benefit of credit union membership: lower auto loan rates which can save members an average of $1,240 over the course of a loan. The CU Link Facebook page can be found at: https://www.facebook.com/CreditUnionLink.