Cadillac Woman Wins CU Link Facebook Contest (Misc News: August 23, 2012)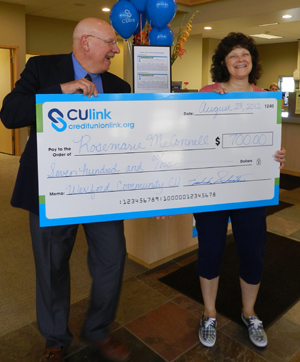 Wexford Community CU President/CEO Fred Schuster congratulates Rosemarie McConnell for winning the Secret to Savings Contest through Credit Union Link.
A member of Wexford Community CU is the winner of the first Facebook contest held in conjunction with a statewide effort to raise awareness about credit unions, and she received a $700 prize for her winning response.

"I love puzzles and I love my credit union so this competition grabbed my attention right away," said Rosemarie McConnell, 54, of Cadillac and the winner of the contest, which was posted July 24. "I'm really excited to be able to share the prize money with my family, and to open a credit union account for my 2-year-old grandson. Credit unions have been terrific to our family, so I want to get him started early."

"Michigan credit unions are always looking for innovative and fun ways to give money back to our members, and this Facebook competition is another example of our commitment to the families we serve," MCUL & Affiliates CEO David Adams said. "We're excited to be using social media to further showcase the credit union difference and the collective power of Michigan credit unions."

"Giving back to our members is what we are all about," Fred Schuster, CEO of Wexford Community said. "We are thrilled to have Rosemarie as a member and even more excited to present her with a $700 check."

The puzzle McConnell solved asked entrants to complete a phrase by filling in missing letters, highlighting a benefit of credit unions: "Lower fees and loan rates combined with exclusive discounts add up to big savings for credit union members." More than 50 entries were submitted, and McConnell was the first to solve it. McConnell has been a credit union member for more than 30 years.

The contest is part of this year's CU Difference campaign, which included the launch of a new online portal for Michigan credit union information, creditunionlink.org.

The next CU Link Facebook promotion, "What would you do with $1,240?" is now under way and runs through Sept. 23. This sweepstakes highlights another benefit of credit union membership: lower auto loan rates which can save members an average of $1,240 over the course of a loan. The CU Link Facebook page can be found at: facebook.com/CreditUnionLink.

Two additional promotions will take place in 2012.