Longtime MCUL Executive Maurice Phillips Dies at 76 (Misc News: August 22, 2012)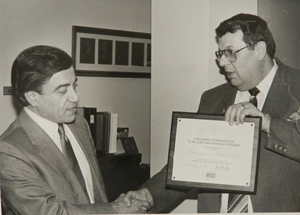 Maurice Phillips, left, accepts a 25-year certificate from former MCUL President and CEO Ken Bixby.
Maurice Phillips, a longtime employee of MCUL & Affiliates, died Aug. 18, at the age of 76.

Phillips, who worked for the league from 1960-98, was remembered by former colleagues in the Michigan credit union movement as a mentor and friend to many.

Liz Morehouse, CEO at the former Michigan Services CU, which merged into American 1 CU last year, said Phillips was instrumental in her becoming a credit union leader.

"A lot of (my becoming a CEO) had to do with his encouragement and making believe I could do it," Morehouse said.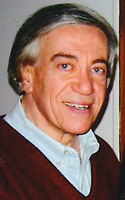 Phillips
"Almost everyone I've talked to said 'He was my mentor,' " said Morehouse, who retired in May after the American 1 transition.

Lon Bone, vice president of public relations and community involvement for Genisys CU, agreed that mentor was the first word that comes to mind when remembering Phillips. Bone added that Phillips taught him to do everything with class.

"He treated everybody with respect," Bone said.
MCUL & Affiliates CEO David Adams said Phillips was an asset to the league and Michigan credit unions.
"Everyone who knew Maurice would attest that he was a true gentleman and that he was dedicated and passionate about his work on behalf of credit unions," Adams said. "Our hearts go out to the survivors of our friend and former employee Maurice Phillips."

Phillips attended the University of Michigan, majoring in journalism. He worked at The Detroit Times and The Detroit Free Press before joining the league to manage the design department, which produced publications and promotional material for credit unions.

In 1967, he moved into a newly created league position to direct the launch of the country's first statewide credit union advertising program, the forerunner of today's CU Difference campaign, and in 1981 helped create the Joint Advertising Board. He was director of communications and special events beginning in 1984.