Genisys Rolls Out Mobile Check Capture for iPhones (Misc News: August 21, 2012)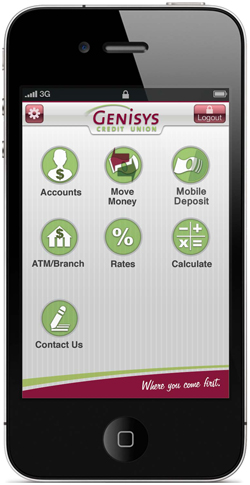 Genisys CU has launched its new iPhone app with Mobile Check Deposit after months of development, making it the first credit union in Michigan offering mobile check capture.
"When developing our new iPhone app, it was important for us to add features that would enhance our members' banking experience," CEO Jackie Buchanan said. "We wanted members to be able to bank with Genisys wherever they go."
Mobile check capture allows members to take a photo of a check using the camera on their phone, meaning they don't have to go to a branch to deposit a check. Those in the Gen Y/Z generations have been clamoring for banking institutions to add mobile capture.
In fact, mobile capture has been so popular, some bank customers have shown a willingness to pay for it. According to a story at PaymentsSource.com, U.S. Bancorp is charging 50 cents per check for the service. The website said other banks are considering charging for the service.
Genisys is not charging fees for use of its mobile capture system.
Mary Monahan, executive vice president and research director at Javelin Research, told the website that even while some financial institutions are charging for the service, mobile check capture actually saves money for the financial institutions. She said mobile check capture costs about 4 cents to process, while processing checks by more traditional means can cost from 75 cents to more than $3 per check.
Genisys' iPhone app features a new design, updated functionality and takes advantage of the security features offered in Apple IOS 4.3 or later.
In addition to basic functions such as viewing balances, transferring money, obtaining rates and searching for free ATMs, members now have more mobile banking options.
They can enroll and view multiple Genisys accounts as well as link accounts for access with one login. Members can also make quick transfers using Drag-n-Drop to transfer within an account or to any Genisys member. Posted and pending transaction history can be viewed along with details about each transaction. The app also includes auto, home and mortgage calculators to estimate savings and payment costs.
"By simplifying the functionality of performing transactions, we hope that members will find managing their accounts more convenient than ever before," Buchanan said.
Members can download the free Genisys app by searching for it in the App Store. Genisys is working on a version of the app to work on Android phones and hope to have it available by the end of the year.