CFPB Director: CUs Were Not the Problem During Financial Crisis (Misc News: July 17, 2012)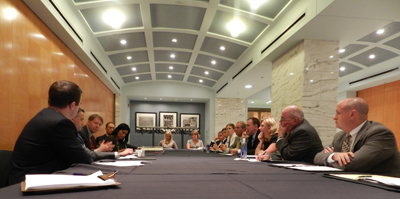 Richard Cordray, director of the Consumer Financial Protection Bureau, listens as Michigan credit union leaders discuss multiple issues facing the industry.
DETROIT – More than a dozen credit union leaders told the director of the Consumer Financial Protection Bureau that they can do more to help consumers if they get a bit of help from the new bureau.
CFPB Director Richard Cordray was in town for a morning field hearing on Monday, then met with credit union leaders in the afternoon.
Tom Teeple from Mortgage Center said credit unions have been responsible lenders, even at the height of the 2008-09 financial crisis.
"We don't think that we were really the type of lenders that got (the country) in trouble," Teeple said.
"We don't think so either," Cordray interjected.
Julie Wangerin, vice president of compliance and quality control at Member First Mortgage, said the CFPB should simplify the disclosures required when consumers are signing a mortgage.
"As an industry, we're always saying 'The members don't get it, why are we doing it?' " Wangerin said.
Patty Campbell, CEO of Christian Financial CU, added that home buyers are not going to read everything if there are 56 mortgage documents for them to sign.
Raj Date, assistant director of the CFPB, said the bureau wants to help credit unions by regulating some of the irresponsible lenders who were at the root of the financial meltdown. In particular, the bureau is focusing on three key areas: independent mortgage lenders, payday lenders and private student loans.
"There were mortgages approved (in 2005-07) in this country that didn't even pass the 'laugh' test," Date said.
He added that credit unions actually suffered twice as a result of the financial crisis. First, irresponsible lenders pushed good lenders out of the market, then the market crashed, which affected credit unions again.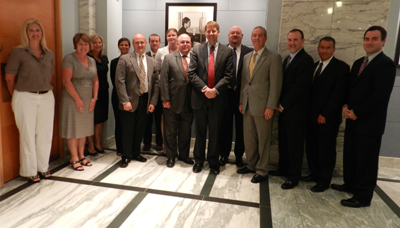 Cordray, center with red tie, takes a moment with credit union leaders who attended the meeting.
MCUL & Affiliates CEO David Adams told bureau leaders that credit unions are also concerned about government efforts to regulate overdraft privileges.
"When the government tinkers with pricing, it has unintended consequences," Adams said.
Adams also urged the CFPB not to take away legitimate sources of income since retained income is essentially credit unions' only source of income.
Lon Bone, vice president of public relations for Genisys CU, said the key to overdraft is letting people know when they are about to incur an overdraft charge and helping them avoid it. Bone said Genisys offers e-alerts to let people know when their account balance dips below certain levels.
"That's an appealing practice," Cordray said.
Bone added that a simple disclosure works best, preferably on the statement, which saves the cost of a separate mailing and consolidates information members need about their accounts.
With regard to Reg CC, Campbell said financial institutions have struggled with the requirement to make funds available from checks as quickly as required by the Expedited Funds Availability Act of 1987.
She said that the required turnaround on checks makes fraud easier.
"If you want to deposit checks, there should be a hold on them," she said.
On debit interchange, Bone said that consumers have not seen the benefits from the reduction in debit interchange fees that they were promised. He said prices at stores are not lower and stores that were charging a higher price for using a credit card rather than cash are still doing so.