CFPB Director Listens to Issues about Credit Reporting (Misc News: July 17, 2012)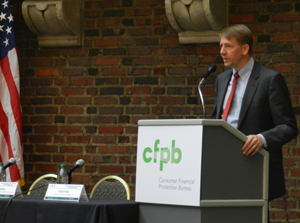 Richard Cordray, director of the Consumer Financial Protection Bureau, addresses about 120 people in attendance at a hearing in the atrium at the Detroit Institute of Arts.
DETROIT – Frank Deyoub of Royal Oak says that problems with identity theft have followed him around for 15 years.
Deyoub spoke at a field hearing before the Consumer Financial Protection Bureau at the Detroit Institute of Arts. He told a panel, including experts on consumer finances, members of the CFPB staff and representatives of the credit reporting industry, that one credit-reporting bureau, TransUnion, has his birth year as 1953, but he is obviously much younger than his late 50s.
He said another man has bought houses and cars in his name. He's had calls from the schools his children attend telling him that he can't chaperone a school field trip because he failed a background check.
Deyoub was one of several people who spoke at a hearing sponsored by the Consumer Financial Protection Bureau in Detroit.
The CFPB this fall will begin supervision and examination of consumer credit reporting agencies with more than $7 million in annual receipts, the agency announced on Monday, according to CUNA News Now.
With the spectacular setting of the museum's atrium, several people took the opportunity to speak to the panel, which included CFPB Director Richard Cordray and Deputy Director Raj Date.
During the hearing, one woman said that the credit reporting agencies reported that she was dead. Some on the panel made light of the situation and many of the 120 people in the audience snickered, but consumer attorney Ian Lyngklip said when it was his turn to speak that the premature reporting of the woman's death is no laughing matter.
"There's nothing that (the Fair Credit Reporting Act) says that will help us to help this woman," Lyngklip said.
Cordray said that the bureau is sponsoring hearings across the country so that he and the rest of the bureau staff can understand the credit reporting industry and how the industry affects people.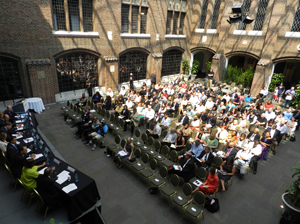 The hearing showed off the Detroit Institute of Art's spectacular atrium.
"This country's credit-reporting system is a resource in which we all have a stake," Cordray said.
Panelist Bill Sermons, director of research for the Center for Responsible Lending, said industry estimates of a credit reporting bureau error rate of 3 percent is not acceptable.
"Three percent is 6 million consumers," Sermons said. "That's still too high."
Mary Spector, co-director of the Civil Clinic at the Southern Methodist University Dedman School of Law, said some specialty areas of collections are even worse. For example, she said a federal study indicated that 11%of all medical collections shown on reports are already paid.
But Stuart Pratt, president and CEO of the Consumer Data Industry Association, said that this country's credit reporting system is the most successful in the world. He said credit reporting has replaced bias with facts and tells the story of people across the decades of their lives. He added that the industry has been on the front line of preventing identity theft.
The CFPB said its examination authority will cover about 30 firms that account for 94% of total credit report industry receipts. There are around 400 firms in the $4 billion consumer credit reporting market, according to CFPB estimates. The three largest credit reporting agencies produce more than three billion consumer credit reports each year, and maintain credit records on more than 200 million Americans, the CFPB said.
Cordray said dispute resolution and credit report accuracy would be two areas of emphasis for the agency. Inaccurate credit reports deprive lenders of the information needed to properly assess credit risk, and can also cause borrowers to be wrongly denied loans, charged higher interest rates, or passed over for jobs, he added.
Cordray said the agency also would work with credit reporting agencies to improve the accuracy of credit report information. The credit report dispute resolution process can be "unreasonably laborious" for consumers, he added, noting that credit reporting agencies can be slow to report the results of investigations to those consumers.