CUs Lose Key Supporter in Congress (Misc News: July 9, 2012)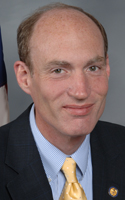 McCotter
Former U.S. Rep. Thaddeus McCotter's resignation from his seat leaves a void for credit unions in Michigan and the country.
McCotter abruptly resigned on Friday saying the past month and a half had "severed the necessary harmony between the needs of my constituency and of my family." In May, the Michigan Bureau of Elections found McCotter had only 277 valid signatures of the 2,000 he turned in. State Attorney General Bill Schuette is investigating possible election fraud.
McCotter, a Republican from Livonia, was a critical supporter to credit unions. He was one of three Michigan members of the House Financial Services Committee and he was a cosponsor on two major credit union pieces of legislation before Congress right now: member business lending and supplemental capital.
"Thad McCotter has been an important ally to the credit union movement," MCUL & Affiliates CEO David Adams said. "We wish him the best in his future endeavors."
McCotter, who has lived his entire life in Southeastern Michigan, has served in Congress since 2003. Last year, he briefly waged a campaign for president, but dropped out after he didn't qualify for the debates.
After learning that he did not have enough signatures for his name to appear on the primary ballot, McCotter initially said he would try a write-in campaign, but abandoned that effort a short time later.
With McCotter off the ballot, Kerry Bentivolio, a Vietnam War veteran, teacher and beekeeper from Milford, is the only Republican on the primary ballot for Michigan's 11th District, which covers suburban areas of Wayne and Oakland counties outside Detroit. Party officials are backing a write-in campaign by former state Sen. Nancy Cassis of Novi.
Two Wayne County residents, William Roberts, of Redford Township, and Oakwood Hospital chief of medicine Taj Syed, of Canton Township, are seeking the Democratic nomination.