NCUA Chair: Expanded MBL Will Allow CUs to Create Jobs (Misc News: June 7, 2012)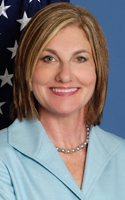 Matz
In a far-ranging interview with Wall Street Journal Market Watch, NCUA Chair Debbie Matz said credit unions should be given the authority to expand member business lending help create jobs.
"There's a statutory cap on the total amount of business lending a credit union may do which can inhibit them from making all the loans they want," Matz said. "We support credit unions who want to lift the cap and help communities create jobs."
Senate Bill 2231, the Credit Union Small Business Jobs Bill, would raise the cap on small business lending from 12.25% of a credit union's assets to 27.5%. Besides NCUA, the bill has the support of the U.S. Treasury Department and President Barack Obama. The bill includes numerous safeguards aimed at helping credit unions make safe loans to small businesses.
Matz said MBL expansion is critical for small businesses because many banks are not interested in making smaller business loans.
"They make very small loans that frequently banks won't make—the average loan is only about $230,000—for things like a day-care center or an auto repair shop," Matz said. "Sometimes banks are reluctant to make loans that small."
Additionally, credit unions offer better deals on their business loans, she added.
"Credit unions generally have lower rates on loans than their competitors," Matz said.
Click here to read the full story.