MCUL Completes Successful 2012 Hike the Hill (Misc News: June 1, 2012)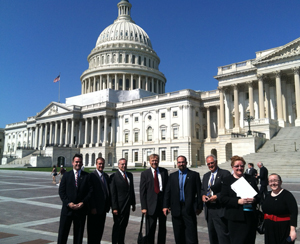 Kieran Marion of MCUL & Affiliates; Dave Brandt, E&A CU; Charles Canvasser, EECU Community; Phil Matous, Total Community CU; Justin Bamford, Muskegon Co-Op FCU; Don Yuvan, Eaton County Educational CU; Phyllis White, St. Joseph Mercy Hospital Pontiac FCU, and Melissa Zylema, St. Joseph Mercy Hospital Pontiac FCU take a moment in front of the U.S. Capitol.
WASHINGTON - More than 30 Michigan Credit Union leaders flew to Washington last week for the MCUL & Affiliates annual Hike the Hill lobbying event. Joining league government affairs staff, CU leaders met with leaders from the NCUA and representatives from Michigan's entire congressional delegation.

The MCUL kicked off the event with a luncheon featuring NCUA Chair Debbie Matz. Also in attendance were Matz's Chief of Staff Steve Bosack and Senior Advisor Buddy Gill. Matz spent several minutes providing a detailed update on several of the regulatory agency's recent actions, including recent changes made by the NCUA to the troubled debt restructuring rule, an issue brought to the surface in 2011 by both the MCUL and several Michigan credit unions.

In addition to discussing several specific regulations, Matz discussed the importance of the NCUA working in cooperation with the newly created Consumer Financial Protection Bureau to ensure new regulatory proposals do not adversely affect many smaller institutions such as credit unions. Matz mentioned her increasing communication with CFPB director Richard Cordray and her unique perspective on regulatory proposals after spending several years in senior management with a credit union prior to joining the NCUA.

Matz mentioned the importance this experience has played in helping her to better understand how individual regulations can potentially impact day-to-day credit union operations. The agency also discussed the encouraging positive numbers coming from recent credit union data.

With respect to legislative issues, Matz mentioned the agency's recent meeting with senior White House officials on legislation to raise the CU member business lending authority. Matz discussed the agency's support of the legislation, specifically how increased small business lending through a higher cap would help further diversify CU loan portfolios and better serve many small business members seeking low-cost capital.

Following the luncheon with NCUA leaders, Hike the Hill participants received a political briefing from senior CUNA government affairs representatives at CUNA's headquarters. The league also hosted an evening reception on Capitol Hill at the Credit Union House, where Rep. Fred Upton, R-St. Joseph, made a special candidate appearance with credit union leaders. Participants received an update on Rep. Upton's recent re-election efforts and a forecast on the ever-changing political climate in Washington.

On Thursday, credit union leaders headed to Capitol Hill for office visits with representatives from each of Michigan's 17 U.S. House and Senate member offices. CU leaders discussed legislation to raise the CU member business lending cap, increase credit union access to supplemental capital, and legislation that would eliminate unnecessary ATM disclosures. Rep. Dave Camp, R-Midland, who currently serves in leadership as chairman of the Ways and Means Committee signed on as a co-sponsor of H.R. 3993, legislation to permit credit unions access to supplemental forms of capital. Additionally, Reps. Dale Kildee, D-Flint, and Sander Levin, D-Royal Oak, signed on as co-sponsors of H.R. 4367, legislation to eliminate the unnecessary physical ATM fee disclosure requirement on ATMs. Additional co-sponsor support from several other members of Michigan's delegation on these bills is expected in the next few weeks.

"Michigan credit union leaders did an excellent job this week in carrying our message to members of our congressional delegation," MCUL & Affiliates CEO David Adams said. "Several members committed to supporting and even co-sponsoring some of our top legislative priorities, including supplemental capital and ATM fee disclosure reform legislation. With our largest group of CU leaders in recent years, Hike the Hill continues to be extremely important to our ongoing federal lobbying efforts on behalf of the industry."

Following meetings with credit union officials, Reps. Gary Peters and John Dingell tweeted their appreciation for meeting with them. Follow Peters @RepGaryPeters and Dingell at @John_Dingell.

"So glad to meet with my Michigan Credit Union League friends today to talk about improving legislation to small businesses," Dingell tweeted.