Dingell is Latest Michigan Cosponsor of MBL Legislation (Misc News: May 22, 2012)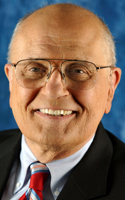 Dingell
The senior member of Congress, Rep. John Dingell, is the latest from the Michigan delegation to add his name as a cosponsor of legislation to expand credit union member business lending authority.
Dingell, D-Dearborn, is the 10th House member from Michigan to sign on as a cosponsor. The others are John Conyers, D-Detroit; Gary Peters, D-Bloomfield Twp.; Dale Kildee, D-Flint; Hansen Clark, D-Detroit, Sander Levin, D-Royal Oak; Fred Upton, R-St. Joseph; Candice Miller, R-Harrison Twp.; Thaddeus McCotter, R-Livonia, and Bill Huizenga, R-Zeeland.
In addition, both of Michigan's senators, Democrats Carl Levin of Detroit and Debbie Stabenow of Lansing, are cosponsors of the Senate version of the bill.
MCUL & Affiliates CEO David Adams said bringing Dingell aboard as a cosponsor is an important step toward passage of the MBL bill.
"The Dean of the House of Representatives, Congressman John Dingell, joins a bipartisan mix of nine other Michigan congressmen and both U.S senators in strong support of expanded MBL authority for credit unions," Adams said. "We welcome
Mr. Dingell's support as we work hard to get this important job-creating legislation through Congress.
The battle over MBL is currently being waged in the Senate where Majority Leader Harry Reid, D-Nev., has promised to bring the measure to a vote this year. Reid has already used his authority to bypass a committee vote to bring the bill, originally sponsored by Sen. Mark Udall, D-Colo., to the floor for a vote by the full Senate.
CUNA is working with Udall to line up the votes needed to pass the measure. While a vote has not been scheduled, it could be in the coming weeks.
The Credit Union Small Business Jobs Bill would allow some credit unions to increase lending to small businesses from the current 12.25 percent of assets to 27.5 percent.
Visit the MCUL & Affiliates CapWiz page to send a letter to Dingell or other supporters thanking them for their cosponsorship or to ask for the support of members of the Michigan delegation who have not yet signed on as cosponsors.