CUs Help Lead Fight Against Kidney Disease with 2012 Kidney Walk at the Detroit Zoo (Misc News: May 22, 2012)


Staff and supporters from Communicating Arts CU and Public Service CU take a moment for a photo at the 2012 Kidney Walk at the Detroit Zoo.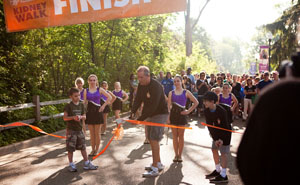 David Adams, honorary chair of the 2012 Kidney Walk at the Detroit Zoo, cuts the ribbon kicking off this year's walk.
MCUL & Affiliates and Michigan credit unions once again stepped up for the National Kidney Foundation of Michigan as the second largest sponsor of the 2012 Kidney Walk at the Detroit Zoo in Royal Oak, which took place on Sunday, May 20.
More than 4,500 people attended the 2012 Kidney Walk, which raised more than $360,000 to support the NKFM's prevention programs and patient services that are offered to the more than 900,000 Michigan residents living with kidney disease, and the many more at risk. Total donations to the Kidney Walk were up by $60,000 compared to last year.

Thanks to sponsorships, numerous office fundraisers, and the contributions of 13 individual credit unions, the Michigan credit union community contributed a total of more than $80,000 to this year's event.

MCUL & Affiliates CEO David Adams served as honorary chair of the event for the second consecutive year.



"Michigan credit unions strongly believe that we must give back to the communities we serve and support efforts that help people, including taking on kidney disease which affects nearly one in eight Michiganders," Adams said.

"Credit unions have deep roots in our communities and we see firsthand how events like the Kidney Walk can make a real difference in people's lives. We're proud to support the National Kidney Foundation of Michigan and the terrific work they do to improve people's health and help save lives."

As honorary chair, Adams kicked off the walk by cutting the ceremonial ribbon to begin the 1.5-mile walk through the Detroit Zoo.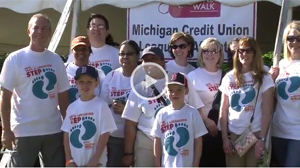 Click above to watch the CUBE TV video of the 2012 Kidney Walk at the Detroit Zoo.
Throughout the day, kids visited the Radio Disney entertainment area for face painting, dance contests, giveaways and music and also enjoyed noodle art and noodle jewelry with Noodles & Co. Kidney patients were offered free healthy food, massages, NKFM tote bags and other fun gifts in the Champions Tent. All walk participants received free food and refreshments.

Credit unions that participated in the 2012 Kidney Walk include Michigan First CU, Advantage One FCU, Good Shepherd CU, Downriver Community FCU, Shore to Shore Community FCU, Detroit Metropolitan CU, Co-Op Services CU, Rivers Edge Community CU, Christian Financial CU, Communicating Arts CU, Public Service CU, Village Community CU, and the Metro West Chapter.

NKFM President & CEO Daniel Carney saluted the efforts of Michigan credit unions and all those who participated in the 2012 Kidney Walk. "We walk to honor those living with kidney disease and to raise funds to support a better quality of life for them," Carney said.

"The Kidney Walk also brings attention to the fact that preventing chronic kidney disease is essential and can be accomplished in many cases by controlling the leading causes of kidney failure, diabetes and hypertension."
Click here to watch a video recap of the event.