Benishek Co-Sponsors Supplemental Capital Legislation (Misc News: May 16, 2012)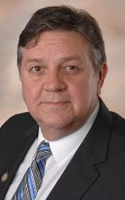 Benishek
U.S. Rep. Dan Benishek, R-Iron Mountain, has signed on as a cosponsor of legislation that would give credit unions the ability to raise supplemental capital.
Introduced by Rep. Peter King, R-N.Y., the Capital Access for Small Businesses and Jobs Act of 2012 (H.R. 3993) would amend the Federal Credit Union Act to empower federal credit unions to receive payments, representing equity, on certain uninsured non-share capital accounts, subject to such terms, rates and conditions that would be established by the board of directors, within limitations prescribed by the NCUA board.
Supported by CUNA and the MCUL, H.R. 3993 currently has 35 cosponsors, including six from Michigan's delegation: Reps. Thaddeus McCotter, R-Livonia; Candice Miller, R-Harrison Twp.; Fred Upton, R-St. Joseph; Dale Kildee, D-Flint; Hansen Clarke, D-Detroit, and Benishek.
At a time when many credit unions are forced to curtail growth due to a poor economic climate with rising deposits and diminishing loan demand, this legislation would redefine "net worth" with respect to any insured credit union (other than low-income designated CUs) to include non-share capital accounts, as authorized by the NCUA board.
These accounts must: 1) not alter the cooperative nature of the credit union; 2) be uninsured; 3) be subordinate to all other claims against the credit union, including creditors and the NCUSIF; 4) be available to be applied to cover operating losses of the credit union in excess of its retained earnings; 5) be subject to maturity limits as established by the NCUA; and 6) offered by a credit union that is well-managed and sufficiently capitalized.
For additional information on H.R. 3993, click here.