CUs Tell House Committee about Financial Literacy Efforts (Misc News: May 2, 2012)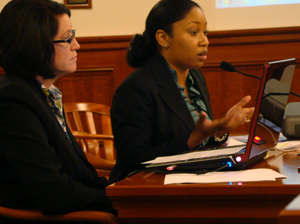 Beth Troost, left, of MCUL & Affiliates, and Jennifer Slaughter of CASE CU in Lansing explain some of the efforts by credit unions to increase financial literacy to the state House Banking and Financial Services Committee.
Credit unions celebrated the end of Financial Literacy Month with a visit to the House Banking and Financial Services Committee where they testified about the great things credit unions do to support financial knowledge.
Jennifer Slaughter of CASE CU in Lansing said her credit union does a lot to support financial education for everyone from elementary children to senior citizens.
CASE offers seminars and workshops that are free to the public, with 20 to 25 people normally attending each one. Sessions have included identity theft, How to Buy Your First Car, Teaching Your Child the Importance of Saving and credit card presentations at Lansing Community College.
So far this year, CASE has reached more than 1,500 students with financial education topics at 63 presentations in area schools.
"Teachers understand that a lot of their students are missing the message of financial literacy at home," Slaughter said.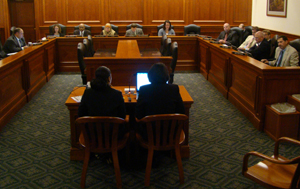 Committee members listen to Troost and Slaughter explain the many ways credit unions support financial literacy.
Beth Troost, financial education coordinator for MCUL & Affiliates, told members of the committee that Michigan credit unions lead the nation in youth financial education. Those efforts start with the 366 student credit union branches operated by 57 Michigan credit unions. In the 2010-11 school year, nearly 50,000 students attended one of 1,909 classroom financial literacy programs conducted by Michigan credit unions.
She highlighted several credit unions that have won industry awards for financial education programs, including Michigan Schools & Government CU in Clinton Twp., which was recognized for providing monthly financial education seminars to hundreds of adult members and free financial counseling to members struggling with money management; Public Service CU in Romulus, which won a national award for its youth financial education outreach, and Extra CU in Warren, which brings the curriculum of the National Endowment for Financial Education to teachers in students at seven high schools in five school districts.
"These financial education outreach activities, coupled with credit union products geared toward helping members build assets, avoid excessive fees and use debit appropriately will continue to make a positive impact in the financial lives of Michigan consumers," Troost said.