MCUL GAC Day Two: Lt. Gov. Says State is Already Rebounding from 'Lost Decade' (Misc News: April 18, 2012)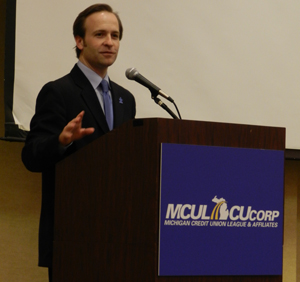 Lt. Gov. Brian Calley speaks at the MCUL GAC.
LANSING – After calling the '00s a "lost decade," Lt. Gov. Brian Calley said Michigan is back on track and he challenged credit union leaders to do more to help with the state's comeback.
Calley said that the 1990s were great for Michigan with lower unemployment and higher prosperity than the national averages, but those numbers were flipped for the '00s.
Calley ran with Gov. Rick Snyder on a platform that they would reinvent Michigan to be more business friendly and to encourage existing companies to expand.
Speaking at the MCUL GAC on Wednesday, Calley said that for the first time in 15 years, the state's tax policy is not designed to promote outside businesses coming in, meaning existing businesses actually pay more.
"Everybody's for jobs," Calley said, "but if you want more of them, it's kind of important to understand where they come from."
One of the most important changes the administration made was to reform the state's business tax, which was considered second worst in the country, and replace it with one that is simple and now ranked seventh best, Calley said.
He said that the state still has $638 million in tax breaks on the books, but slowly, that number will fall. Despite the tax breaks, the state ended up losing jobs in the relocation category anyway.
"I think it's safe to say it was a spectacular failure," Calley said.
In addition, the Snyder administration has gone after needless regulations by forming the Office of Regulatory Reinvention. In just one year, Calley said, the state reduced the number of regulations by 400.
He added that the work is starting to show dividends. Last year, the state saw 80,000 new private sector jobs and per-capita income rose 5.2 percent.
Calley said that like credit unions, the state has focused on customer satisfaction. He also challenged credit unions to learn what their members dream of and find out what they can do to help.