NCUA Launches Pocket Cents Site Aimed at Youth (Misc News: April 12, 2012)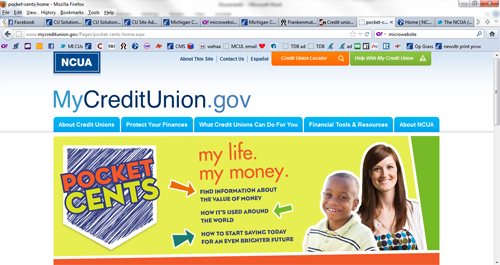 The NCUA is launching a new youth microsite called Pocket Cents as part of the Financial Literacy Month celebration.
The site is part is a part of MyCreditUnion.gov, which launched last year.
"NCUA is committed to developing financial literacy materials for people of all ages," NCUA board Chair Debbie Matz said. "Pocket Cents introduces young people to the benefits of credit unions and the importance of setting financial goals."
Pocket Cents provides access to tools and information designed to teach school-aged youth positive financial habits. The website offers important lessons about the value of a dollar and allows youth to explore the different currencies from around the world using an interactive map.
The site is set up to help young people discover the vital role credit unions play in their financial future. The website explains the history of credit unions, how to locate a credit union, and how to start a credit union right in their school.
Among the list of credit unions, visitors to the site will find that Michigan has 350 student-run credit unions, by far the most of any state.
The league also is doing a lot to promote financial literacy for young people. MCUL coordinates the "Financial Literacy Legislative Challenge" where credit unions and lawmakers team up for youth financial education events. The program is a great way to involve lawmakers in the process of financial education and highlight to them the credit union commitment to financial education.
The league promotes credit union involvement in Money Smart Week – an initiative of the Federal Reserve – many credit unions are participating in financial education events for all ages the week of April 22 – listings for those events can be found by clicking here.
Finally, Michigan credit unions also participate in CUNA's Youth Week activities which includes the Savings Challenge.
The launch of Pocket Cents coincides with NCUA's ongoing efforts to promote financial literacy during Financial Literacy Month. At the start of April, NCUA began a Twitter campaign with daily postings focused on themes such as tax tips, money management for youth, savings, investing, retirement, and homeownership. Follow the NCUA @TheNCUA.
To view Pocket Cents, visit mycreditunion.gov/pocketcents.