New Resources Available in MBL Push (Misc News: April 5, 2012)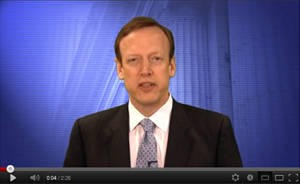 Click above to watch a video of CUNA President/CEO Bill Cheney asking credit union supporters to do all they can to support MBL ahead of a vote in the Senate that is expected later this month.
CUNA is calling on credit union supporters to use any means possible to reach out to their senators in advance of the expected vote on member business lending when the Senate returns to Washington on April 16. And don't just use one channel; CUNA hopes you will use multiple avenues to reach out.
Michigan's two senators – Lansing Democrat Debbie Stabenow and Detroit Democrat Carl Levin – are already co-sponsors on the Senate version of the bill that would expand member business lending, but CUNA says supporters should reach out to them anyway to thank them for their support of the legislation and to remind them to vote for the measure when it is introduced.
CUNA suggested the following methods for reaching out the senators:
Call Toll Free (877) 642-4223
Email them through CapWiz
Arrange an in-district visit
Attend a town hall meeting
Post a link to the CUNA Grassroots Action Center (capwiz.com) on your website to encourage your members to get involved
Encourage members to share personal small business stories with the senators
Get active on social media, such as Twitter and Facebook, using the hashtag #raiseMBLcap
Stabenow's page is: www.facebook.com/stabenow
Levin's page is: www.facebook.com/carllevin
"Don't just do one of them," CUNA President/CEO Bill Cheney said in a conference call. "Do as many as possible."
MCUL & Affiliates is also doing its part to boost MBL. CEO David Adams wrote an editorial that was posted on the Huffington Post supporting MBL. The league is also updating its Facebook page and Twitter feed with the latest on the legislation. Click here to visit the MCUL Facebook page and remember to like us. www.facebook.com/MICreditUnions You can follow us on Twitter @twitter.com/MICreditUnions
Cheney said the banks want to make MBL a battle between banks and credit unions. But Cheney said it's really a measure to help small businesses and make more jobs available.
The banks have also pointed to a few high-profile credit union failures, but Cheney said credit unions have historically performed better on business loans than banks.
Cheney suggested that credit union supporters should ask the senators if they don't support raising the MBL cap, what they would tell small businesses that can't get access to credit.
Whatever they do, Cheney said he hopes credit unions do everything they can to push for MBL.
"We can't leave anything in the tank," he said, adding that this is the best opportunity credit unions have had in 14 years to raise the MBL cap.
"We have to wear the senators out over the next two weeks."