Invest in America Takes Home 2012 Herb Wegner Memorial Award (Misc News: March 23, 2012)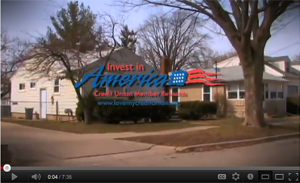 A crowd of nearly 1,000 credit union professionals gathered at a special ceremony to view a video tribute to Invest in America, as the program was honored with the 2012 Herb Wegner Memorial Award for Outstanding Program. To watch the video, click on the video image.

The award, given each year by the National Credit Union Foundation, represents the highest honor in the industry.

"Whether it's raising awareness of the benefits of credit union membership, providing consumers with discounts, supporting credit unions with a program designed to increase member loyalty, or funding financial literacy initiatives such as Biz Kid$, IIA has proven to be a unique and beneficial credit union program," NCUF Awards & Recognition Committee Chairman Bob Schumacher said. "When you look at the numbers that support Invest in America's efforts, the outcome is so overwhelming, it's hard to grasp or comprehend all its immensity."

MCUL & Affiliates CEO David Adams was joined on stage to accept the award by Sprint CEO Dan Hesse and Don Johnson, General Motors vice president for U.S. sales operations.

"The Invest in America program has just been terrific for us," Hesse said. "This is the largest program of its kind anywhere at Sprint, so it's been extremely successful for us, and we're just privileged to be great partners with the credit unions."

The program, which provides exclusive discounts from American companies, reaches an estimated 70 percent of credit union members nationwide. "The Invest in America program has captured what it truly means to be an American credit union member," noted Michael Atchison, senior vice president at the Arizona Credit Union League & Affiliates. "During these difficult times, working together and supporting not only each other but also the businesses that provide made-in-America products and services, helps us all. This program is the solution that unites these businesses and the credit union members."

The award is named in honor of the late CUNA CEO Herb Wegner, whose tireless dedication, innovative ideas and deeds revolutionized the ways that credit unions serve their communities. The awards that bear Wegner's name recognize his spirit of "innovative, creative, risk-taking" leadership.