Rep. Huizenga Adds Name to MBL Co-Sponsors (Misc News: March 22, 2012)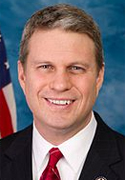 Huizenga
With a group of credit union leaders in his office, U.S. Rep. Bill Huizenga, R-Zeeland, became the ninth member of Michigan's congressional delegation to sign on as a co-sponsor of the credit union member business lending bill. Huizenga now joins nearly 140 of his colleagues in the House in backing the legislation.
"He's such a great credit union supporter," MCUL & Affiliates CEO David Adams said. "What that gives us is at least nine of our 15 members of our delegation from Michigan have signed onto the MBL legislation."
Huizenga said he hopes MBL will spur economic growth.
"There are a couple of things I think we need to get this economy turned around," Huizenga said. "One is consumer confidence. That's a challenge. Another is certainty. The third thing is credit availability."
The move comes as more than 4,000 credit union leaders, including 130 from Michigan, have converged on Washington for the annual CUNA Governmental Affairs Conference, and to meet with lawmakers about critical credit union issues. In an unusual twist, the American Bankers' Association is also having its annual meeting this week, with roughly 1,000 bankers in town to lobby members of Congress at the same time.
Previous Michigan co-sponsors include Reps. Fred Upton, R-St. Joseph; Candice Miller, R-Harrison Township; John Conyers, D-Detroit; Gary Peters, D-Bloomfield Township; Dale Kildee, D-Flint; Hansen Clark, D-Detroit, and Thaddeus McCotter, R-Livonia, and Sander Levin, D-Royal Oak.
Sen. Mark Udall, D-Colo., introduced a similar bill in the Senate – the Small Business Lending Enhancement Act, S.509. Both Michigan Sens. Debbie Stabenow and Carl Levin, both Democrats, are co-sponsors in the Senate. Late last week, Senate Majority Leader Harry Reid, D-Nev., promised he would bring the MBL bill to a vote. He added that he supports the measure.
The MCUL's visit with Huizenga was part of CUNA's goal of meeting with all 535 members of Congress. CUNA economists have estimated that increasing the cap would inject $13 billion in loans into the economy and create as many as 140,000 new jobs, with no cost to taxpayers.
The league invites credit union executives to visit the MCUL CapWiz website to send a letter thanking Huizenga for his sponsorship or to another of the state's congressmen who are not currently co-sponsors. Michigan congressmen who are not currently on the bill are: David Camp, R-Midland; Dan Benishek, R-Iron Mountain; Tim Walberg, R-Tipton; Justin Amash, R-Cascade Township; Mike Rogers, R-Brighton, and John Dingell, D-Dearborn.