Live from the CUNA GAC: Day Two (Misc News: March 20, 2012)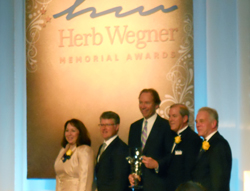 Laida Garcia, vice chairwoman of the NCUF board; Don Johnson, vice president of U.S. sales operations for General Motors; Sprint CEO Dan Hesse, CU Solutions Group CEO David Adams and NCUF board Chairman Gary Oakland celebrate Invest in America winning the Herb Wegner award Monday.
"Credit unions are on the rise." That was the message and the challenge CUNA President/CEO Bill Cheney delivered to the more than 4,000 CU leaders who attended Monday's opening session of the 2012 CUNA GAC in Washington.
"They're rising in membership, their financials are getting better, they're rising in their political profile here in Washington," Cheney said. "We have a lot of challenges in terms of reducing regulatory burdens and continuing our political push, but the opportunities these days for credit unions are amazing."
Attendees also heard from acclaimed journalists Bob Woodward and Carl Bernstein, as well as former Secretary of State Condoleezza Rice.
Rice told the crowd she was a longtime credit union supporter and member, and spoke of the financial crisis of 2008 as one of the greatest "shocks" to our modern way of life.
In the evening, MCUL & Affiliates CEO David Adams proudly joined executives from Sprint and General Motors to accept the Herb Wegner Memorial Award for Invest in America, which was honored as 2012 Outstanding Program of the Year. The annual award is considered the highest honor in the industry.
"The Invest in America program has just been terrific for us," Sprint CEO Dan Hesse said. "This is the largest program of its kind anywhere at Sprint, so it's been extremely successful for us, and we're just privileged to be great partners with the credit unions."
Click here to watch a video of the day's highlights.