Senate Leader Promises MBL Vote (Misc News: March 15, 2012)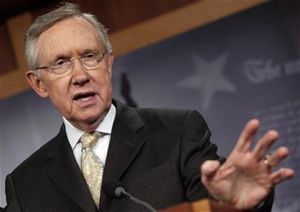 Reid
Attendance for credit union leaders at next week's CUNA GAC in Washington has taken on more urgency after Senate Majority Leader Harry Reid promised a vote on member business lending.
Reid, D-Nev., said on the Senate floor that credit unions deserved an up or down vote on the measure.
"I'm to the point now where we're going to have a vote on this," Reid said on the Senate floor after Sen. Mark Udall, D-Colo., asked him when they might vote on his bill, which would raise the MBL cap from 12.25 percent of assets to 27 percent, according to CU Journal. "We're going to have a vote on this. Democrats and Republicans are going to have to make a decision on where they stand for American credit unions."
Reid said that he had been working with Udall to attach the MBL bill to the Jumpstart Our Business Startups (JOBS) Act, a bill supporting small businesses. But under the process to which the Senate has agreed for consideration of the jobs bill, the Udall amendment can only be added by unanimous consent and indications are that effort would not likely be successful, according to CUNA News Now.
However, Reid told the Senate body that he has begun procedural steps to bring the Udall bill (S. 509) to the floor as a standalone bill. No timetable was given, but Reid said the Senate would vote on it.
Reid's announcement comes as thousands of credit union executives and supporters are about to descend on the nation's capital for CUNA's largest gathering of the year, the GAC.
With the help of credit unions and leagues, CUNA is hoping to meet with all 535 members of Congress during the next week to lobby for MBL.
Reid said that not only does he want a vote on the measure, he supports it.
"This is a bill … that presents problems for people because a number of the banks don't want this to happen," Reid said, according to CU Journal. "But I do and I'm going to do everything I can to have this brought before the Senate."
The MBLs measure has been opposed by banks which successfully got Congress to limit MBLs for the first time as HR 1151, the 1998 CU Membership Access Act. Since then, the credit union lobby has worked almost every Congress to get the cap raised.
A similar bill is pending in the House.
CUNA President/CEO Bill Cheney said after the senators' floor statements that CUNA needs the help of every credit union to lobby for MBL. Credit union supporters are invited to click here to visit Cap Wiz where they can find a suggested letter to personalize and send to their representatives.
"I cannot stress enough how critical next week's meetings will be to credit unions' success on this issue," Cheney said. He encouraged credit unions, in advance of those meetings, to continue to reach out to all senators to encourage them to support the Udall bill.
Both Michigan senators, Debbie Stabenow, a Democrat from Lansing, and Carl Levin, a Democrat from Detroit, have signed on as cosponsors of the bill. In the House, Reps. Sander Levin, D-Royal Oak; Fred Upton, R-St. Joseph; Candice Miller, R-Harrison Township; John Conyers, D-Detroit; Gary Peters, D-Bloomfield Township; Dale Kildee, D-Flint; Hansen Clark, D-Detroit, and Thaddeus McCotter, R-Livonia, are cosponsors. If your representative is already a cosponsor, you can send them a letter thanking them for their support.
CUNA estimates that the bill would inject $13 billion into the economy and lead to the creation of 140,000 jobs in the first year.