Lansing CU Member Wins $100K in Save to Win (Misc News: February 23, 2012)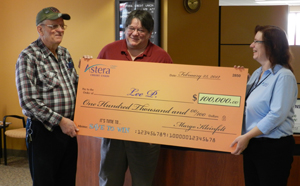 Lee Preston, left, his son Mike Preston and Sheila Mitchell, senior member service representative for Astera CU hold the check at the Save to Win presentation at the credit union's Dewitt branch.
DeWITT – For Lee Preston, the call from his local credit union came as a surprise – and with a big prize attached.
Preston, 71, was revealed today as the lucky Grand Prize winner of $100,000 for simply saving money through Save to Win, an innovative program designed to encourage credit union members to save their money. A member of Astera CU since 1981, Preston was randomly selected in a computerized statewide drawing from among more than 16,500 credit union members who deposited money into the Save to Win accounts in 2011.
Preston said he plans to use the money to help his four grandchildren with college expenses.
He said he got involved with Save to Win after meeting the 2009 winner, Billie Smith, who won as a member of what is now Lake Trust CU.
Preston said he played the Michigan lottery for years, but only won $100 twice.
"I can tell the Michigan Lotto, 'You're second now,' " he said.
Preston said he always hoped to do more to help his grandchildren with college, but now will be able to help a great deal.
"You've taken a lot of worry off this old retiree," Preston said.
Preston, who retired from General Motors' former Fisher Body plant in Lansing, said he appreciates the great relationship he has with the people at Astera. His advice for those who are not credit union members?
"I would say get involved in a credit union," Preston said.
MCUL & Affiliates CEO David Adams said the league started Save to Win to encourage more savings.
"Save to Win exists to encourage saving statewide and we've seen a great response from credit union members," Adams said. "Credit unions want their members to be financially healthy and providing incentives to save is one way to make that happen. As consumers save more and borrow more prudently, not only they, but the whole economy becomes better positioned for the future. We're very excited for our 2011 Grand Prize winner and congratulate Lee for saving money and winning the Grand Prize for doing something we should all be doing, and that's saving money for our future."
Jeff Croff, Astera's vice president of marketing, said having the statewide winner has been great for the credit union.
"It was exciting to get the phone call from the league letting us know we had the winner," Croff said.
As of Dec. 31, 2011, 175 members have saved more than $300,000 at Astera.
Through Dec. 31, other credit unions serving the Mid-Michigan area and participating in Save to Win reported their members had saved the following:
CASE CU: $678,725.92 saved by 261 members
CP FCU: $1,807,573.99 saved by 731 members
EECU: $361,506.93 saved by 130 members
Lake Trust CU: $8,033,389.32 saved by 1,821 members
Portland FCU: $883,456.38 saved by 225 members
The goal of Save to Win is to encourage more people to save money and strengthen their financial futures, by making saving fun.
Statewide, the savings rate continues the upward trend for the Save to Win program: In 2011, credit union members across Michigan saved nearly $34 million, with an average account balance of more than $2,000 – both up from the $30 million saved in 2010, with and average account balance of $1,871.
Each $25 deposit into a Save to Win certificate of deposit by a credit union member entitles them to one entry into the $100,000 Grand Prize drawing. The Save to Win program also awards smaller monthly prizes ranging from $125 to $1,000 to winners. In addition, most credit unions also individually award prizes to members who sign up for Save to Win, with prizes varying from credit union to credit union. All savings deposits generate interest and build savings.
Save to Win launched in 2009 as a collaboration between MCUL, the Filene Research Institute and the Doorways to Dreams Fund (D2D). Designed to appeal to credit union members who have had difficulty saving money, Save to Win has helped many families save their money instead of spending it on games of chance. A 2009 survey found that 59 percent of participants had spent money on the lottery over the previous six months and that less than half saved money regularly before opening their Save to Win accounts.