MCUL Hosts Discussion with U.S. House Financial Services Member Bill Huizenga (Misc News: February 22, 2012)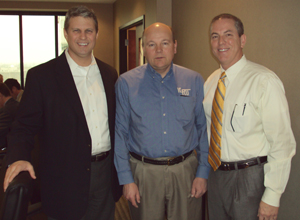 Rep. Bill Huizenga, left, MCUL board President George Isola and MCUL & Affiliates CEO David Adams, take a break from discussions about issues important to credit unions.
On Tuesday, Feb. 21 MCUL & Affiliates hosted a meeting with U.S. Rep. Bill Huizenga, R-Zeeland, one of Michigan's three members serving on the House Financial Services Committee.
MCUL & Affiliates CEO David Adams kicked off the conversation with a discussion of the importance of H.R. 1418, legislation introduced to raise the credit union member business lending cap. Huizenga is not currently a co-sponsor of the bill. MCUL board members My Personal CU CEO Dan Baines; KALSEE CU CEO Rudy Callen, and Gerber FCU CEO John Buckley discussed the importance of increasing access to capital for Michigan small businesses. Participants stressed that prior to 1998, credit unions were not subject to a business lending cap.
The MBL legislation currently has more than 130 co-sponsors including eight members of Michigan's congressional delegation: Reps. Sander Levin, D-Royal Oak; Fred Upton, R-St. Joseph; Candice Miller, R-Harrison Township; John Conyers, D-Detroit; Gary Peters, D-Bloomfield Township; Dale Kildee, D-Flint; Hansen Clark, D-Detroit, and Thaddeus McCotter, R-Livonia. Sen. Mark Udall, D-Colo., introduced a similar bill in the Senate – the Small Business Lending Enhancement Act, S.509. Both Michigan Sens. Debbie Stabenow and Carl Levin, both Democrats, are co-sponsors in the Senate.
The CU leaders also discussed H.R. 3993, legislation recently introduced to allow credit unions access to supplemental forms of capital. Further discussions on these important issues will continue on March 18-22 during CUNA's upcoming GAC, where more than 110 Michigan credit union leaders are expected to visit lawmakers on Capitol Hill.
Huizenga said he would take a close look at the bills.
For additional information on H.R. 1418 and H.R. 3993, visit the MCUL's legislative affairs webpage by clicking here.