Small Auto Dealer Counts CU as a Business Partner (Misc News: November 22, 2011)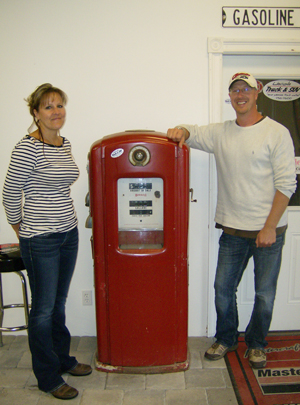 Lenny Bobick Jr., owner of Lincoln Truck & SUV, stands with office manager Pamela Joslin.
Lincoln may be a small village in northern Michigan's Alcona County, but one second-generation family business, Lincoln Truck and SUV on West Main Street, is attracting people from virtually every county of Michigan looking for the right used vehicle at the right price.
In some ways, Lincoln Truck and SUV's growth began with a partnership between current owner Lenny Bobick Jr. and Northland Area FCU. The story goes back to 1970, when Bobick's parents owned a Gulf gas station on the current site of his dealership. After his father, Leonard Bobick Sr. passed away in 1989, Lenny bought the business from his mother, Josephine. In 2001, Northland Area FCU arranged a business line of credit that allowed the younger Bobick to purchase inventory. Bobick made renovations and expansions, and eventually built a 3,200-square-foot auto service center that was essential to strengthening customer service as well as his business' brand. Over time, he bought additional property and added a 30-vehicle display lot. He worked with Northland to finance each new project.
"Northland Area FCU has helped our business grow, without a doubt," Bobick said. "Northland Area FCU has helped us get access to capital, increase our inventory to meet demand and physically grow. Lincoln Truck and SUV has a solid relationship with Northland going back many years, and their continuing support has been the key to our ability to succeed, even in tough economic times. I think every small business needs three things: Honesty, good products – and a solid credit union in your corner."
Today, Lincoln Truck and SUV is a $1.5-million-a-year business. Bobick specializes in pre-owned, affordable vehicles in the $10,000-$20,000 range. His office is famed for his father's antique motorcycle, which is parked across from Bobick's desk and which he refuses to part with. He has also made a name for himself by personally finding vehicles for his customers by attending auctions and using his extensive contacts.
"Our credit union is proud to help small businesses in our community at a time when others are saying no," said Don Grant, head of Northland Area FCU's Lending department. We've helped area businesses with over $28 million in loans. Local businesses like Lincoln Truck and SUV are the engines literally driving our local economy and creating jobs. Credit unions like Northland want to do even more to help small businesses and anyone with a good business idea."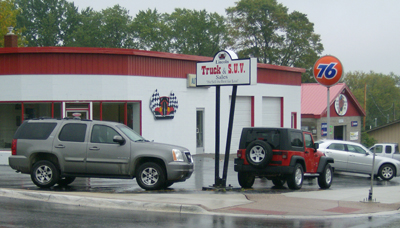 Lincoln Truck & SUV started after owner Lenny Bobick bought his father's gas station business and partnered with Northland Area FCU to expand it.
Credit unions' small-business lending could potentially grow even more with the right policies: The U.S. Senate Banking Committee is considering a plan to let credit unions lend up to 27.5 percent of its assets for small-business projects, up from the current cap of only 12.25 percent of total assets. Increasing the small-business lending cap could potentially pump $13 billion into the economy and create 140,000 new jobs in small businesses without any taxpayer costs, according to the CUNA.
The MCUL & Affiliates is hoping to help more credit unions tell stories of how they helped small businesses in their community with member business lending in an effort to keep the issue in the forefront as lawmakers consider changing the MBL rules.
The MCUL is interested in helping other credit unions tell their member business lending stories. Click here to download a press release template that you can use to create a press release for your local media market. Or you can contact MCUL Public Relations Manager Mona Shand at (800) 262-6285, ext. 246, or Mona.Shand@mcul.org.