Rep. Levin Adds Name to MBL Co-sponsors (Misc News: October 27, 2011)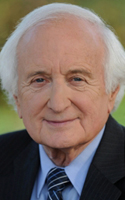 Levin
U.S. Rep. Sander Levin, D-Royal Oak, has joined 100 of his colleagues in the House to co-sponsor the credit union member-business lending bill.
"We thank Rep. Levin for standing up on behalf of small business owners across the country who would benefit from increased member business lending by credit unions," MCUL & Affiliates CEO David Adams said. "He recognizes that credit unions can help pull the country out of this difficult economy."
Earlier this month, Levin, who is the ranking Democrat on the House Ways and Means Committee, attended the Metro East Chapter's legislative breakfast where chapter leaders discussed how MBL would improve the economy.
"Rep. Levin's co-sponsorship of MBL shows the importance of attending your chapter's legislative breakfasts," Adams said. "Real stories told directly by credit unions executives are the best way to illustrate how legislation such as MBL will help credit unions help members and help the economy."
At the breakfast, credit union leaders discussed the differences between H.R. 1418 and previous versions of MBL legislation. Levin asked if credit unions were still seeing an increase in the number of small businesses seeking credit, which credit union executives confirmed. They also shared several stories. One executive mentioned that his credit union is at the current MBL cap and discussed how it recently had to turn down several small business loan requests because of the MBL cap restrictions.
Credit union executives mentioned how commercial loan delinquency rates are lower at credit unions than their bank counterparts, and that the NCUA and Department of Treasury are supportive of increasing the cap for CUs.
Levin told the group that he would look into the MBL bill with greater focus and discuss it with his legislative staff.
Levin is the eighth Michigan congressman to co-sponsor MBL. Previous co-sponsors include Reps. Fred Upton, R-St. Joseph; Candice Miller, R-Harrison Township; John Conyers, D-Detroit; Gary Peters, D-Bloomfield Township; Dale Kildee, D-Flint; Hansen Clark, D-Detroit, and Thaddeus McCotter, R-Livonia. Sen. Mark Udall, D-Colo., introduced a similar bill in the Senate – the Small Business Lending Enhancement Act, S.509. Both Michigan Sens. Debbie Stabenow and Carl Levin, both Democrats, are co-sponsors in the Senate.
The league invites credit union executives to visit the MCUL CapWiz website to send a letter thanking Rep. Levin for his sponsorship or to another of the state's congressmen who are not currently co-sponsors. Michigan congressmen who are not currently on the bill are: David Camp, R-Midland; Dan Benishek, R-Iron Mountain; Tim Walberg, R-Tipton; Bill Huizenga, R-Zeeland; Justin Amash, R-Cascade Township; Mike Rogers, R-Brighton, and John Dingell, D-Dearborn.