'Building a Better World' Music Video Released for International Credit Union Day (Misc News: October 17, 2011)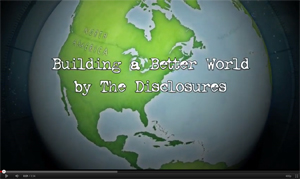 Click here to watch The Disclosures vide of "Building a Better World."
The credit union music duo, The Disclosures, have just released their free song and music video for International Credit Union Day called "Building a Better World," a tribute to this year's theme. Now, you can use both the song and video to raise awareness of the positive impact credit unions continue to make around the world.
Click here to download the song.

As you may know from previous newsletters, The Disclosures were looking for help in making their music video. "Our music has always focused on finding new ways to package the credit union message," said Disclosures band member Chad Helminak. "With 'Building a Better World,' we decided to take it one step further and invite credit union folks to have some fun and help demonstrate our cooperative nature."

In addition to the submissions, the band also filmed credit union people singing a few of the segments. More than 40 credit unions and supporting organizations make cameos in the video, which include credit union staff lip-synching lyrics, performing air-guitar with hockey sticks, and even dancing with mascots (as you can see). We have some enthusiastic peers out there.

"We're truly amazed at the response and support we received for this project so far, and we're truly thankful for credit unions' participation," Disclosures member Christopher Morris said. "Credit unions' 'personability' usually shines through their member and community service, but now you can see it also holds true for music videos."

Click here to access CUNA's International Credit Union Day resource page.