U.S. Rep. Fred Upton Co-sponsors MBL (Misc News: September 26, 2011)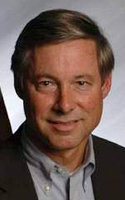 Upton
U.S. Rep. Fred Upton, R-St. Joseph, has added his name to the list of co-sponsors of legislation to raise the cap on member business lending for credit unions.

"As chairman of the powerful House Energy & Commerce Committee, Fred Upton's sponsorship will prove critically important for gaining other Republicans' support for this job creating legislation," MCUL & Affiliates CEO David Adams said.

Upton joins both of Michigan's U.S. senators and six other House members as co-sponsors on the legislation in the respective houses. The six congressmen are Republicans Thaddeus McCotter and Candice Miller and Democrats Gary Peters, Dale Kildee, John Conyers and Hansen Clarke.

Legislation was introduced in the spring that would raise the MBL cap from 12.25 percent to 27.5 percent. CUNA estimates the change would pump $13 billion into the economy, leading to the creation of 140,000 jobs.