CUNA rolls Out Washington-area Ads Touting MBL (Misc News: September 14, 2011)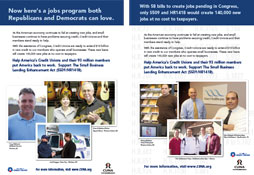 Click above to download the ads.
CUNA is starting a Washington-area ad campaign supporting efforts in Congress to raise the member business lending cap.
According to CUNA News Now, the ads say that there are 58 bills pending in Congress to create jobs, but "Only S. 509 and H.R. 1418 would create 140,000 new jobs at no cost to taxpayers."
The ads feature business owners who have borrowed from credit unions.
The ads will run in the Washington regional edition of The Wall Street Journal, along with D.C. political publications, Roll Call, Politico, The Hill, Congress Daily AM, Congressional Quarterly (CQ) and National Journal.
"With more than half of the states sending credit union delegations through their Leagues to Washington over the next six or seven weeks for 'Hike the Hill' visits, we have a significant opportunity to make a strong impact in support of these bills," said Richard Gose, CUNA senior vice president of political affairs. "The ads will work in tandem with the credit union representatives, as a reminder to members of Congress and their staff members of the importance of this legislation to credit unions."
The ads will run into the month of October.
Sen. Mark Udall, D-Colo., has introduced S. 509 in the Senate and Rep. Ed Royce, R-Calif., has introduced H.R. 1418 in the House. Both bills would increase the MBL cap to 27.5 percent of assets, up from the current 12.25%. CUNA has estimated that raising the cap would inject $13 billion in new funds into the economy and create 140,000 new jobs, at no cost to taxpayers.