Michigan Once Again Leads Nation in Classroom Presentations (Misc News: August 26, 2011)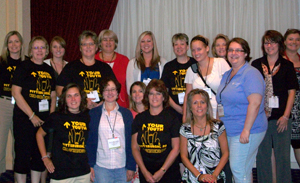 Attendees gather for a photo at the NYIB conference.
Michigan credit unions once again were tops in the country for presentations made in school classrooms.

For the period ending June 30, Michigan credit union representatives made 1,909 classroom presentations, just beating Texas, which had 1,898 presentations, according to the National Youth Involvement Board's annual report.

Nationwide, 452,369 students learned money management skills and heard the credit union message at 14,202 presentations for the year. Those figures are up 9.4 and 4.6 percent respectively compared to last year.

While maintaining leadership in the number of presentations, Michigan came in second for the total number of students reached with 45,985, compared to North Carolina's 64,008. But further analysis of the numbers show that all of North Carolina's presentations were made by one large credit union, State Employees CU, based in Raleigh. In Michigan, the effort to reach youth in the classroom is more widespread, with 88 credit union financial educators reporting presentations from 35 Michigan credit unions.

Credit unions are encouraged to report youth financial education presentations to the National Youth Involvement Board website at www.nyib.org. The NYIB Annual Report and Classroom Presentation Results serve as a powerful tool to illustrate credit union involvement in youth financial education.

Tools and resources for classroom presentations and information about reporting to the NYIB can be found on the MCUL website here. For additional information contact MCUL Financial Education Coordinator Beth Troost at Beth.Troost@mcul.org or (800) 262-6285, ext. 453.