Funds Available to Help Low-income Communities (Misc News: August 5, 2011)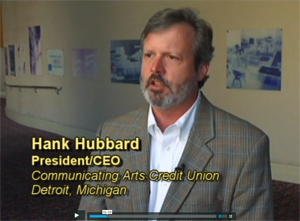 Hank Hubbard has a passion for the low-income population in Detroit that is served by Communicating Arts CU where he is president and CEO. But he knows that there are other credit unions serving low-income communities that could benefit from some of the funds CACU has been able to tap into.

CACU was recently awarded $1.5 million from the U.S. Treasury's Community Development Financial Institution Fund, the third year in a row that the credit union has landed the grant. In fact, CACU has garnered $4.25 million in CDFI funds the last three years, reaching the maximum grant allowed in each program cycle.

"We're lending to people that even other credit unions are not interested in," Hubbard said. In many cases, the people who get loans from CACU have D and E credit ratings.

While there are a few other CDFI-certified credit unions in Michigan, Hubbard said CACU has, so far, been the only one to receive a grant. Part of the problem is the application process is long and complicated – Hubbard called it "onerous" – which discourages some credit unions from applying for the funds.

Hubbard said he would be available to advise credit unions that want to give it a try.

Becoming a CDFI-certified credit union can also lead to other opportunities, he said. Many organizations look for CDFI certification when they consider grant applications or other assistance.

"It's important to look at what other resources might be available," Hubbard said.

He added that a retirement fund serving a national group of catholic nuns has told him that it wants to deposit $250,000 in the credit union from their pension fund as an investment in the city.

"That wouldn't be open to us without CDFI certification," Hubbard said.

Hubbard said while the NCUA doesn't consider CDFI certification, CACU has been awarded its Technical Assistance Grants for job creation, creating a financial education program and community development planning. Those grants netted CACU $30,000 in 2010.

He added that the CDFI fund managers and others have indicated Michigan is a state where they would like to invest more money because of how hard the economy has been hit here.
"They would like to give more money to Michigan," Hubbard said.

One agency that can help is the National Federation of Community Development Credit Unions. The federation put together a video explaining how these grants can help credit unions help their communities. Hubbard is one of three credit union CEOs featured in the video. Click here to learn more about the federation.

Click here to access the NCUA grant resource page.