Community Driven Wins Chicken Trophy for S2W Marketing (Monitor: July 25, 2011)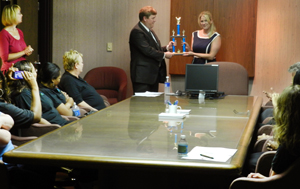 Community Driven CU CEO Kevin Finneran accepts the Chicken Trophy from MCUL League Rep Stephanie Klocinski.
Why is there a chicken on top of the trophy that recognizes credit unions for their hard work to promote the MCUL's innovative Save to Win program? More on the chicken in a moment, but first, there's another question to answer: What did Community Driven CU do to earn the coveted trophy?
The MCUL recently recognized the Ypsilanti credit union for its efforts to promote the savings program.
The Save to Win credit unions competed in April and May in a three-part "coop-etition". The competition included incentives for top sellers, an incentive to encourage members to complete the Save to Win survey online, and lastly, a marketing strategy for selling Save to Win to members and the community. Click here to read Community Driven's S2W marketing plan.
Maureen Lafrinere, who heads up the Save to Win project for the MCUL, said Community Driven has been a leader in the project since joining in May 2010.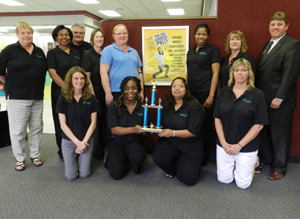 Community Driven CUs celebrate winning the Chicken Trophy for their efforts promoting Save to Win.
"You opened the most accounts out of all of the credit unions," Lafrinere said, adding that Community Driven opened 426 STW accounts out of a total of 2,809 opened through May 31. Community Driven members also accounted for more than a quarter of the online surveys completed.
The prize-linked savings account concept was spearheaded by Peter Tufano, a Harvard professor and founder of Doorways to Dreams, a nonprofit working to strengthen the financial opportunity and security of low and moderate income consumers. They took the idea to the Filene Research Institute, a credit union think-tank, and together they approached the MCUL about launching the project because Michigan had a unique law for allowing prize-linked savings programs. Now several other states are working on laws to allow prize-linked savings.
D2D, Filene and MCUL launched STW in 2009 with eight credit unions, which opened almost 12,000 accounts and those accountholders saved $8.5 million. "During 2009, we held our first coop-etition and launched the coveted Chicken Trophy," Lafrinere said. Now there are 42 credit unions participating in STW.
Christian Financial CU won the trophy the first year.
So, what about that chicken on top of the trophy? Lafrinere said the idea for the Chicken Trophy started when Denise Gabel, Filene's chief innovation officer, was walking through an airport shop, when she saw a purse made out of a rubber chicken.
"It was a crazy, silly, out-of-the-box and innovative idea," Lafrinere said. "Despite the fact that most people would never buy one, the creator found success with this item. And everywhere Denise goes with her chicken purse, a conversation starts."
"Likewise with Save to Win, some people thought Save to Win would never work," she said. "Who ever heard of financial institutions collaborating to give money away? But it does work, and Community Driven and other participating credit unions prove that every day."
And, so, the Chicken Trophy was born.
Claudia Young, Community Driven CU board chairwoman, congratulated the team and challenged them to make sure the coveted Chicken Trophy finds a permanent home at CDCU.
"We want to keep the trophy here at Community Driven," Young said.
Contact Lafrinere at Maureen.Lafrinere@mcul.org if your credit union is interested in participating in Save to Win.