Cheney to Senate: Set Aside Bankers' Objections and Approve MBL (Misc News: July 11, 2011)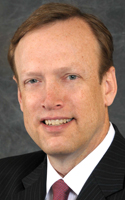 Cheney
CUNA President/CEO Bill Cheney is pressuring Senate leaders to allow a vote on raising the member business lending cap in an effort to stimulate the economy.
In a letter to Senate Majority Leader Harry Reid, D-Nev., and Senate Minority Leader Mitch McConnell, R-Ky., Cheney said America's credit unions stand "very willing" to help businesses create jobs and hold significant capital that could be loaned to small businesses. The problem is the 12.25 percent cap on MBL. The bill, S. 509, introduced by Sen. Mark Udall, D-Colo., and Sen. Olympia Snowe, R-Maine, would lift the cap to 27.5 percent of total assets.
President Barack Obama has endorsed the plan to raise the cap and the Senate Banking Committee has had hearings on the bill. Both Michigan senators, Carl Levin and Debbie Stabenow, have signed on as co-sponsors of the bill, in addition to six Michigan members of the U.S. House, Republican Reps. Thaddeus McCotter and Candice Miller, and Democratic Reps. Gary Peters, John Conyers, Hansen Clarke and Dale Kildee, all are co-sponsors of the House version of the bill.
CUNA News Now reported that the national unemployment rate increased to 9.2 percent in June.
The association estimates that raising the cap would inject $13 billion into the struggling economy, creating more than 140,000 new jobs.
Cheney said the banking lobby's objection to raising the cap is "unconscionable" considering the bailout they got from taxpayers and their reluctance to lend to businesses as the economy continues to stumble.
"The time is now to set aside the banker objections, move the Udall-Snowe bill and let credit unions serve their members who own small businesses," Cheney said in his letter.
Visit the MCUL's Grassroots Action Center to send letters to Michigan's congressmen and senators in support of the MBL legislation.