McCotter Signs on to Co-sponsor MBL in House (Misc News: July 8, 2011)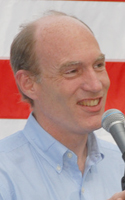 McCotter
Add the name of U.S. Rep. Thaddeus McCotter to the list of co-sponsors of legislation that would raise the cap on member business lending by credit unions.
McCotter, a Livonia Republican who has announced he is running for president, officially became a co-sponsor of the bill in the House on Thursday.
He joins five fellow Michigan members of Congress, Reps. Candice Miller, R-Harrison Township, and John Conyers, D-Detroit, who join Reps. Gary Peters, Dale Kildee, and Hansen Clarke as supporters.
Congress is currently holding hearings on bills that would raise the MBL cap from 12.25 percent to 27.5 percent of assets. CUNA has estimated that lifting the cap will inject $13 billion into the economy, creating more than 140,000 jobs.