Longtime Dort FCU Volunteer Leroy Nesbit Jr. Dies (Misc News: June 24, 2011)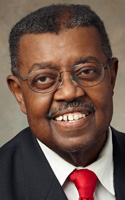 Nesbit
Dort FCU in Flint lost one of its longest-serving champions when Leroy Nesbit Jr. died Monday.

"Leroy was devoted to Dort Federal Credit Union, a volunteer for 36 years and a passionate supporter of our members," Dort President/CEO Vicki Hawkins said. "His support for credit unions went beyond his home at Dort as he was an active advocate and voice for the entire credit union industry."

MCUL & Affiliates CEO David Adams also had kind words for Nesbit.

"Leroy was the epitome of credit union volunteerism," Adams said. "He was active with the Michigan League and CUNA throughout his career, participating regularly in Washington, D.C. and Lansing lobbying trips. He was well known and respected by lawmakers and he always represented credit unions with character and determination."

Nesbit was awarded the MCUL's Distinguished Service Award and he has a place in MCUL's Hall of Fame.

"He will always be remembered with great respect by those of us who worked with him on credit union issues for so many years," Adams added. "Leroy was also active with the automotive councils of credit unions and during my 14 years as CEO of the MCUL, I always knew I could count on him for his support and advocacy. Our sincere sympathies go out to Leroy's family and community of credit union friends."

Funeral service will be at 11 a.m. on Saturday, June 25, at Macedonia Missionary Baptist Church, G-5443 N. Saginaw Street in Mount Morris. There will be a viewing and family hour for visitation at 10 a.m., one hour prior to the service. Interment will be at River Rest Cemetery, G-4413 Flushing Road. Friends and pallbearers will assemble at the church at 10 a.m. Saturday.