Credit Unions Communicate Top Issues at 2011 Hike the Hill (Misc News: June 21, 2011)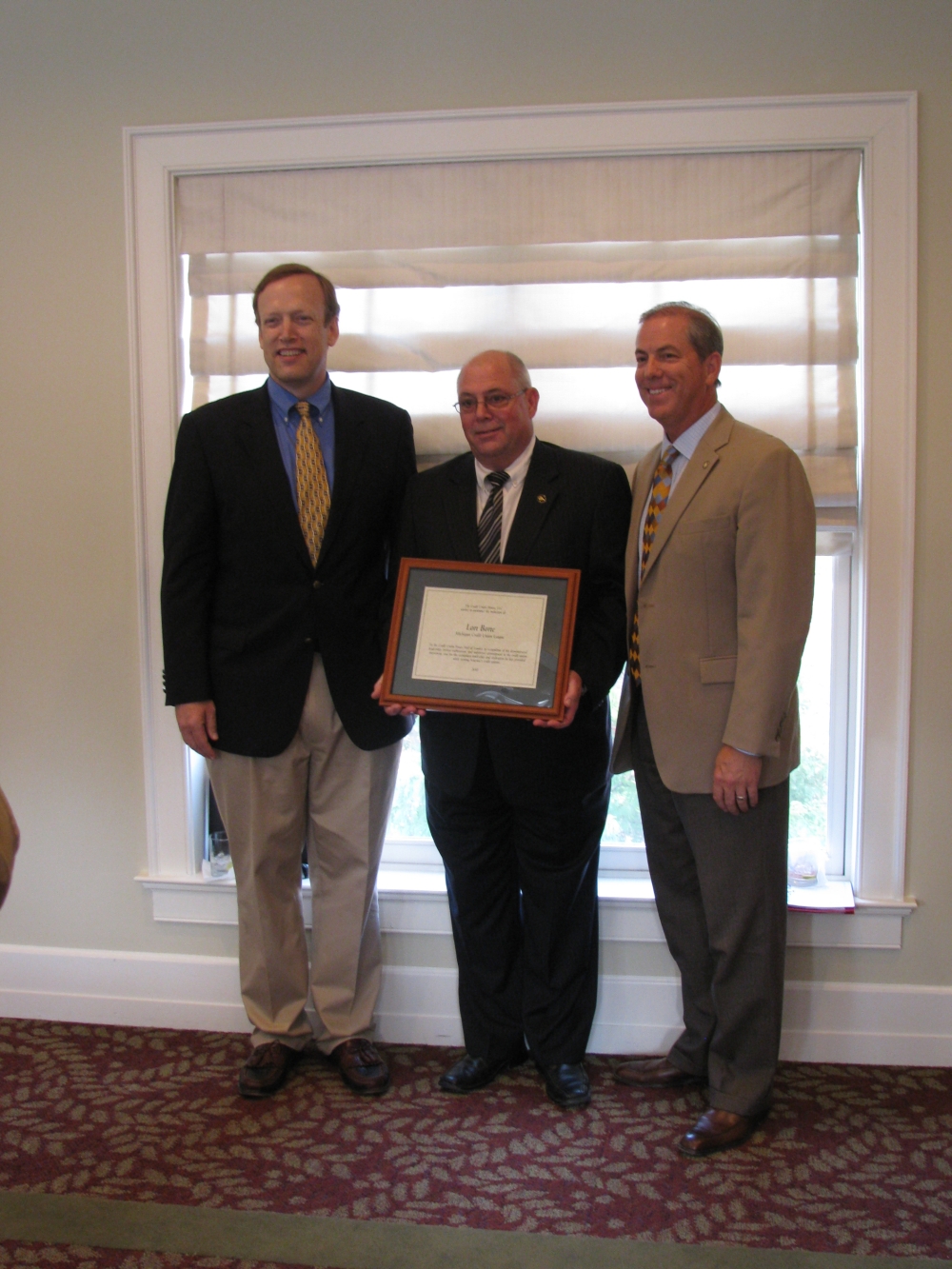 Bill Cheney, left, and Dave Adams, right, present Genisys CU's Lon Bone with his Hall of Leaders award.
On June 15-16, more than 30 Michigan credit union leaders representing institutions from throughout the state participated in the MCUL's annual Hike the Hill event in Washington, D.C.
Following a narrow Senate defeat of Sen. Jon Tester's, D-Mont., interchange delay legislation the previous week, lawmakers were eager to learn more about what they could do prior to the Federal Reserve (Fed) issuing the final debit interchange rule. Participants provided lawmakers with a list of 11 specific recommendations for the Fed to ensure the final rule would not affect small issuers. If the final rule does not fully protect small issuers, Sen. Dick Durbin, D-Ill., recently stated his willingness to lead future legislative efforts to address the exemption, if necessary.
The Fed's final rule could be issued as early as this week. In addition to interchange, CU leaders asked for additional support by members of the U.S. House for H.R. 1418, the Small Business Lending Enhancement Act of 2011, which would increase the authority of credit unions to loan to their small business members.
Reps. John Conyers, D-Detroit, and Candice Miller, R-Harrison Township, committed their support by co-sponsoring the legislation, joining Reps. Dale Kildee, D-Flint, Gary Peters, D-Bloomfield Hills, and Hansen Clarke, D-Detroit. CU participants also discussed the importance of the credit union tax exemption in continuing to serve Michigan's 4.5 million members.
In addition to Capitol Hill visits with congressional staff and/or members representing Michigan's entire delegation, participants engaged in a lunch discussion with NCUA board member Gigi Hyland and senior policy advisor Gary Kohn on Wednesday. A variety of topics were discussed, including upcoming NCUSIF premium assessments, TCCUSF assessments and the health of the CU industry going forward.
CUNA lobbyists provided the group with a legislative update at CUNA's headquarters, followed by a networking reception at the Credit Union House where Lon Bone of Genisys CU and Howard Spencer from Northland Area FCU were enshrined into the Credit Union House's Hall of Leaders for their commitment to the credit union movement. CU House Hall of Leaders Inductees include board chairmen, league presidents, credit union CEOs, league board members, and volunteers. Their names remind all who visit Credit Union House of the many individuals who have volunteered their time to perpetuate the credit union movement and who remain committed to the values and mission on which credit unions were founded.