Cheney: Credit Unions Stand Ready to Increase Small Business Loans While Banks Turn Them Away (Misc News: June 17, 2011)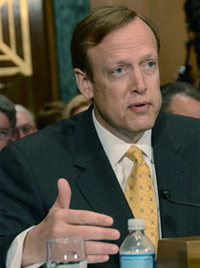 At Thursday's Senate Banking Committee hearing on a bill to increase member business lending authority for credit unions, CUNA President/CEO Bill Cheney suggested that banks are more interested in keeping credit unions from providing more small business owners than helping small businesses themselves.
As small business owners continue to be turned away by banks when they come in search of a loan, credit unions stand ready to pick up the slack and provide small businesses access to much needed credit without putting taxpayer funds at risk, CUNA President/CEO Bill Cheney said at a Senate Banking Committee hearing Thursday.
Also on Thursday, the MCUL won endorsements for MBL from Michigan Reps. Candice Miller, R-Harrison Township, and John Conyers, D-Detroit. Click here to read the story.
Cheney's remarks were made at Thursday's hearing on S. 509, legislation that would expand credit union business lending authority to 27.5 percent of total assets. Cheney, NCUA Chair Debbie Matz, and other credit union and bank representatives testified during the hearing, according to CUNA News Now.
In a letter sent to all senators after the hearing, Cheney said it is disturbing that bankers seem more concerned with keeping credit unions from lending to small businesses than with helping small businesses themselves.
Cheney during his testimony said that bank loans to businesses have fallen by 4 percent since March, while credit union business lending has increased by 5 percent during that same time period, he said.
Banks have remained reticent to lend in spite of the federal government's gifting them with $30 billion in taxpayer-funded small business lending incentives, Cheney said. In contrast, credit unions did not take bailout money.
He said the MBL plan is "a job creation proposal that would not cost the taxpayers a dime and would not increase the size of government."
While credit union business lending has been a major growth area, "credit unions have expanded their member business lending portfolios carefully and prudently," Cheney added.
The CUNA CEO said that the cap lift is a necessary change for smaller credit unions to become more involved in business lending. The additional income will allow credit unions that otherwise would not have participated in business lending to bring in personnel with business lending expertise and to establish the procedures, safeguards, and internal controls needed to run a business lending program, he added.
"The cap is a reason that so few credit unions do business lending," he added.
CUNA has estimated that lifting the cap would inject $13 billion in funds into the economy, creating over 140,000 new jobs.
S. 509 had 19 co-sponsors at press time, including Senate Majority Leader Harry Reid, D-Nev. Fellow co-sponsor Sen. Charles Schumer, D-N.Y., in a statement submitted for the hearing record, called the cap lift a "commonsense way to immediately increase the amount of credit available to small businesses."
A House version of MBL cap lift legislation was introduced earlier this year by Reps. Ed Royce, R-Calif., and Carolyn McCarthy, D-N.Y., and that bill has 38 total co-sponsors.
The Competitive Enterprise Institute's John Berlau and the Heartland Institute's Eli Lehrer also called the MBL cap lift bills "a step in the right direction," adding that "current rules preventing credit unions from lending more than 12.25% of their assets to businesses make no sense."