New Restaurant Opens with Help of CUs (Misc News: June 14, 2011)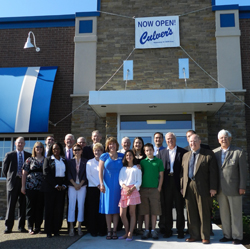 Tom Johnson, co-owner of the new Culver's restaurant in Madison Heights, stands with members of his family, local politicians and officials from the Culver's corporate office at the grand opening of the new restaurant.
Tom Johnson was stuck. Five weeks before he was to close on his loan to open a Culver's restaurant in Madison Heights, executives at the headquarters of the big national bank – which had just swallowed another national bank he was originally doing business with – announced that it would stop granting restaurants loans.
Johnson said the bank pointed him to several other possible lenders for the business loan. Then Linda Williams with the Madison Heights Economic Development Division suggested he contact Michigan Schools and Government CU, which has a branch in Madison Heights. MSGCU liked Johnson's business plan and liked that he was local.
Working with MSGCU and Chad Hoffmeyer at Michigan Business Connection, Johnson was able to get his business loan back on track. MSGCU is the lead lender, but other credit unions have a piece of the loan, which spreads the risk among several institutions.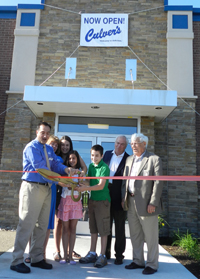 Tom Johnson and his family, along with Madison Heights Mayor Edward Swanson, far right, and Craig Culver take part in the ribbon cutting.
On Monday, June 13, Johnson celebrated the grand opening of Michigan's 31st Culver's restaurant – located just two doors down from MSGCU's local branch – with officials from MBC, MSGCU, Culver's corporate office, local politicians and his family.
"This has been quite a journey for the Johnson family," said Johnson, who took a buyout from Chrysler Corp., where he worked in corporate finance.
Craig Culver, who co-founded the Culver's business in Wisconsin with other members of his family, was there to welcome Johnson into the Culver family.
"I believe family makes us stronger at Culver's," Culver said.