MCUL Releases 2nd Wave of Debit Interchange Campaign (Misc News: June 7, 2011)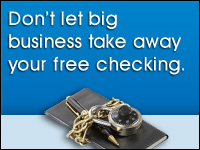 As votes near in the U.S. Congress on bills that aim to delay the Dodd-Frank debit interchange cap before the July 21 implementation date, the MCUL & Affiliates has renewed its efforts to inform consumers and target Sen. Carl Levin. A new radio spot launched today to urge Michigan consumers and credit union members to contact the senators to support S. 575 to delay the debit interchange cap.
To continue to apply pressure to our senators, the MCUL & Affiliates has put together these tactics:
A new 60-second radio ad targeting Sen. Levin will run from June 7-20. Click here to listen to the ad.
A set of revised op-ed pieces and media pitches will be sent to statewide media
The SaveMyFreeChecking.com website has been refreshed with the most recent supportive news articles and updated messaging
Social media outreach and advocacy will continue
New web banners have been updated for credit unions to use on their web sites and can be accessed here.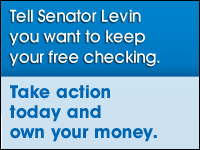 The league is asking for the credit union support for this effort to succeed. Here's what you can do:
Continue to encourage your credit union employees and members to use the toll-free number, (877) 422-3525, and the CapWiz site at Save My Free Checking: What Can I Do? in order to keep up our contacts to Congress.
Update or place the new web banners on your credit union home page.
If you are interested in submitting an opinion piece to your local media, contact Luke Capizzo, the league's communications manager.