Sen. Stabenow Agrees to Support Delay/Study Of Debit Interchange Restrictions (Monitor: June 6, 2011)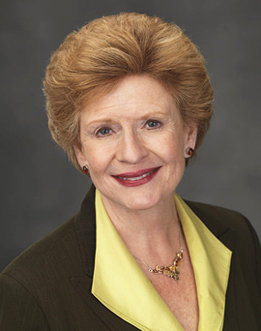 Stabenow
In a well-timed momentum builder for the credit union industry's efforts to delay and study the pending debit card interchange regulations, Michigan Sen. Debbie Stabenow today notified the Michigan Credit Union League & Affiliates that she intends to vote in favor of S. 575 when it comes to a vote in the coming weeks. Senator Stabenow first shared the news of this decision at a town hall meeting in Tawas City where Northland FCU CEO Pete Dzuris and the credit union's chairman Howard Spencer showed up to echo the industry's call for her support. The "official" decision was confirmed today with a phone call from the Senator's Chief of Staff Amanda Renteria to MCUL CEO Dave Adams.

"This decision by Senator Stabenow could be a game changer for the legislation," said MCUL CEO Dave Adams. "In an election year, with such a politically charged issue, it showed great courage by Sen. Stabenow to step out in support of the consumer on this issue," says Adams. "I am not surprised to see this kind of principle-based move by Sen. Stabenow. She has always been a strong advocate for consumers, especially people of modest means, and they are the ones most likely to be negatively impacted by the new banking fees that would surely come from this new provision. The senator has also been an ardent supporter of credit unions and small banks. She has expressed her concerns about the viability of the exemption for small institutions. Her decision could not have come at a better time."

The Michigan Credit Union League has spent more than $1 million on issue ads encouraging consumers to contact Michigan's senators on this issue. As of June 2, nearly 42,000 Michigan consumers have contacted Sens. Stabenow and Levin asking for their support. Even as merchants and retailers ramp up their lobbying on debit interchange, Sen. Stabenow apparently made the decision to send a signal that there is enough uncertainty about the practicality of the small institution exemption that his issue should be studied more carefully before being implemented.
"The Michigan credit union community has been just terrific and very passionate on this issue," says Adams. "In addition to the contacts, we've seen five op-eds placed by credit union officials in newspapers across our state. I've never seen political activism and spirited communication on a legislative issue like this."

The Michigan Credit Union League continues to urge its membership to engage in grassroots lobbying to win support from Senator Levin and the rest of the Michigan Congressional delegation as a vote on debit interchange could come as soon as next week and 60 votes are required in the Senate to avoid a filibuster by Senator Durbin. Already, six of Michigan's Congressional delegation have signed on as co-sponsors of H.R. 1081, the companion bill in the House with many others expressing support for the bill.