2011 Michigan Kidney Walk Raises More than $300K; Michigan Credit Unions Contribute $47K (Misc News: May 23, 2011)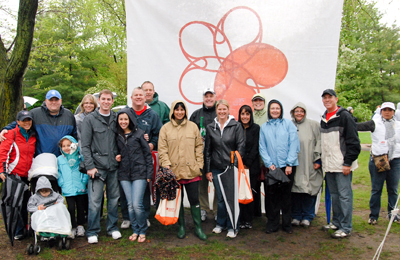 Some of the credit union team gathers for a photo before the walk at the Detroit Zoo.
A driving rain and chilly temperatures couldn't dampen the spirits of more than 4,000 dedicated people who braved the weather to join the 2011 National Kidney Foundation of Michigan's annual Kidney Walk, May 15 at the Detroit Zoo in Royal Oak.

The Walk raised more than $300,000 to support the NKFM's prevention programs and patient services throughout Michigan, with MCUL and Affiliates and credit unions altogether contributing more than $47,000.

Armed with umbrellas and donning rain slickers, walkers of all ages lined up at 8:30 a.m. to walk the 1.5-mile route through the zoo. Honorary Chair David Adams, MCUL & Affiliates CEO, opened the walk with the help of 9-year-old Danny Zivian, a kidney disease patient and this year's top fundraiser.

Together, the two cut the ceremonial ribbon, officially kicking off the event. Throughout the day, kids visited the Radio Disney entertainment area for face painting, dance contests, giveaways, and music and also enjoyed noodle art and noodle jewelry with Noodles & Co. Kidney patients were offered free healthy food, massages, NKFM tote bags and other fun gifts in the Champions' Tent. All walk participants received free food and refreshments plus a hot dog lunch from Dino's of Ferndale.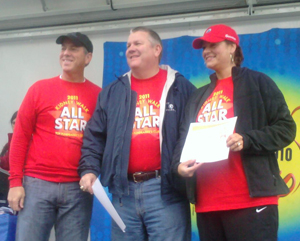 David Adams ($2,295), left, Drew Egan ($1,815) and Kolleen Schocke ($2,375), all representing MCUL & Affiliates, were the top money raisers among the credit union community.
Major Kidney Walk sponsors included MCUL and Affiliates, CU Solutions Group, CUcorp, Meijer, Fresenius Medical Care, Michigan Kidney Consultants, Greenfield Health Systems and many other local businesses.

Kolleen Schocke of CU Solutions Group was the top individual contributor to the cause from the credit union community, raising $2,375, followed by Adams ($2,295) and Drew Egan ($1,815).

The local credit union industry companies that participated in Kidney Walk fundraising this year included:
• ELGA CU
• Downriver Community FCU
• Good Shepherd CU
• Shore to Shore Community FCU
• First Catholic FCU
• Co-op Services CU
• Public Service CU
• Michigan Services CU
• CenCorp

For more information about the NKFM's patient services and prevention programs, or to learn about the NKFM's eight Kidney Walks throughout Michigan, call (800) 482-1455 or visit www.nkfm.org. You can also "like" the NKFM on Facebook at www.facebook.com/KidneyMI.