Coalition Closes in on 60 Senate Votes Needed to Delay Interchange (Misc News: May 19, 2011)

CUNA says it is close to securing the 60 votes needed to delay debit interchange from taking effect, but retailers are also stepping up pressure to save the measure.
In a report Thursday, CU Journal quoted CUNA CEO Bill Cheney as saying that the coalition fighting interchange has 57 votes in the Senate, three shy of the number needed to overcome the filibuster promised by the Durbin Amendment author Sen. Dick Durbin. Click here to read the Journal story.
The National Retail Federation announced a nationwide 60-day lobbying, grassroots and media campaign aimed at ensuring the law takes effect.
At stake is about $12 billion in "swipe" fees that the retailers say they will pass on to consumers.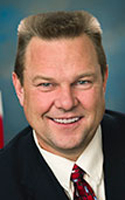 Tester
Also on Wednesday, Sen. Jon Tester, D-Mont., the sponsor of the interchange delay legislation, offered to reduce the timeframe for the delay from 2 years to 15 months. The House version of the bill, sponsored by Rep. Shelley Capito, calls for a 1-year delay.
"All but two banks in my entire state are considered small 'community banks' that will be affected by debit interchange," Tester said on the Senate floor Wednesday. "All of Montana's credit unions will be affected as well. They will feel the pinch. And they will lose because the government is going to set a price for doing business that does not cover their costs."
Credit unions and banks have argued that the reduction in interchange fees will make checking accounts and debit cards unprofitable and new fees will have to be added to compensate.
"It's clear that the merchants are feeling the heat on this issue, and are fighting back," CUNA CEO Bill Cheney told the Journal. "That should be no surprise; since March 15, credit unions have generated at least 325,000 direct contacts with members of Congress…Credit unions acknowledge that there should be sensible reform of Interchange fees – but what is in the law now is not sensible at all. In fact, if the law were in place today, the impact from recent data breaches would be catastrophic for small issuers such as credit unions."
Shortly before taking the stage at the CUNA CFO Council in San Diego, Cheney was told that Sen. Harry Reid, D-Nev., will vote with Durbin. "This is not the end of the world but it is disappointing," he said. The next targets are Sens. Dianne Feinstein, D-Calif., Mike Crapo, R-Idaho, and Tim Johnson, D-S.D. "We are making progress, but we do need your help," Cheney told the audience. "I know this has been around for some time and there is a fatigue factor, but if you've sent 10 e-mails to your senator, we need you to do it again. If we don't get three more votes, we might as well have zero."
Officials have said that the most important battle is in the Senate. Since that is where the Durbin Amendment originated, getting the Senate to overturn it is seen as the biggest hurdle.
So far, Michigan's two senators, Democrats Carl Levin and Debbie Stabenow have not offered a position on efforts to delay interchange. Visit the MCUL's Grassroots Action Center to send letters to lobby Michigan's senators to support the delay.